Welcome to Hayes Intermediate
August 10, 2022
We, Kelly Smith (Principal) and Scott Millbrook (Assistant Principal), look forward to working with you and your child/children this upcoming school year. Last year, we opened Hayes Intermediate and created a school where we take PRIDE in all that we do. Kelly has worked in the district for 27 years. She spent 22 of those years teaching 4th grade and five years as Principal (Neff and Hayes Intermediate). This will be Scott's second year in GLPS after working as Assistant Principal and Athletic Director for five years at Lakewood Middle School. He previously taught 4th grade and elementary physical education in Potterville and was also the Dean of Students at Grand Ledge High School. Both Kelly and Scott reside with their families in Grand Ledge and want the best for the Grand Ledge community.
PBIS for Hayes Intermediate
As you know, Grand Ledge is a PBIS (Positive Behavioral Interventions and Supports) district. We want all people who enter the building to know what is valued and if someone needs help understanding, we want to provide support in a positive manner. Since all students are now coming together in the district for their 5th and 6th grade years, we use Comet PRIDE as our acronym. Our expectations will be that all individuals are:
Positive Respectful Inclusive Determined Empathetic
Times/Classes
Hayes Intermediate students will start school at 7:40 am and end the school day at 2:20 pm. The students will be assigned a homeroom teacher who will have a teaching partner. The students will learn from both teachers throughout the day. For example, the homeroom teacher may teach math and science and the partner teacher will teach reading/writing and social studies.
In addition, the students will have their "specials" (Art, Music, Physical Education, and Technology) along with an enrichment class each trimester.
Open House
The Open House for Hayes Intermediate will be Tuesday, August 30th from 4:30 - 6:00 pm. You and your child will have the opportunity to meet your child's teachers, gather additional information and walk through the building.
Lockers
Each student will be assigned a locker. The lockers do have locks on them, and students will receive their locker combinations the first week of school. Teachers will give the students instruction and time to learn how to open their lockers.
Masks Recommended & Optional in GLPS Buildings
Masks are now recommended and optional in Grand Ledge Public Schools buildings. Hayes will have extra masks available for students and staff. If your family needs more information on Covid-19 and the district policies please see www.glcomets.net/coronavirus .
Additional Communications
We will continue to communicate with you throughout the next few weeks regarding other important topics such as arrival/dismissal, transportation, lunch, technology, attendance, and other procedures and expectations. We are excited to begin another great school year!
Hours of the school day
Start of Day Time: 7:40 AM
End of Day Release Time: 2:20 PM
Half Day Release Time: 10:40 AM
Please do not drop off your student before 7:30 AM. The doors will open at 7:30 AM.
Hayes 5/6 School Supply List
This is a suggested list of supplies your student may bring to school. Please know all items are not needed for the very beginning of the school year. You may choose to wait until you receive additional information from your child's classroom teacher at our Open House on Tuesday, August 30, 2022. It is important to remember that your child will not have a desk in which to keep supplies, so supplies will need to be kept to necessary items only. Thank you!
One 1 inch 3 Ring Binder
Pencils
Pencil Case/Pouch
Highlighters
Eraser Caps/Eraser
Five 2 Pocket Folders (with NO prongs)
Glue Sticks
Pair of Scissors
Two Single Subject Notebooks
Colored Pencils
Personal Pencil Sharpener
3X3 Sticky Notes
Dry Erase Board Marker
Headphones/Earbuds
Water Bottle - not glass
Tissues/Kleenex (for the classroom)
Selection of Face Masks (if desired)
TI-30 IIS Calculator (Sixth Grade only)
Drop Off and Pick Up Area Information
Bus drop off and pick up:
The students that use the Grand Ledge buses will all be dropped off at the north end of the building. The buses will be lined up at the end of the day for the students to get on the buses to go home.
Parent drop off and pick up:
The front of the building parking area will be used each day for students arriving each morning and leaving at the end of the day.
FOR MORNING DROP OFF: Families arriving from the south will turn right into the parking lot, staying on the right side of the lane, and drop their students near the front door. Students should exit from the passenger side of the car.
Families arriving from the north will turn left into the left had side of the parking lot entrance and will make an immediate left to drive in the outer Hayes lot. Proceed to the crosswalk and the students will be signaled by an adult to cross on the crosswalk to the building.
FOR AFTERNOON PICK UP: Families will enter the parking lot from the south, turning right into the parking lot, forming one lane to pick up students along the sidewalk. Please use your colorful sign with your child's name on it to help expedite the pick up procedure.
All cars must enter the Hayes Intermediate parking lot using the south entrance and must exit the parking area using the exit lanes in the center of the Hayes parking lot.
Please continue to use caution and be vigilant for pedestrians in the parking lot. Please use low speeds at all times in the Hayes parking lot. Thank you so much!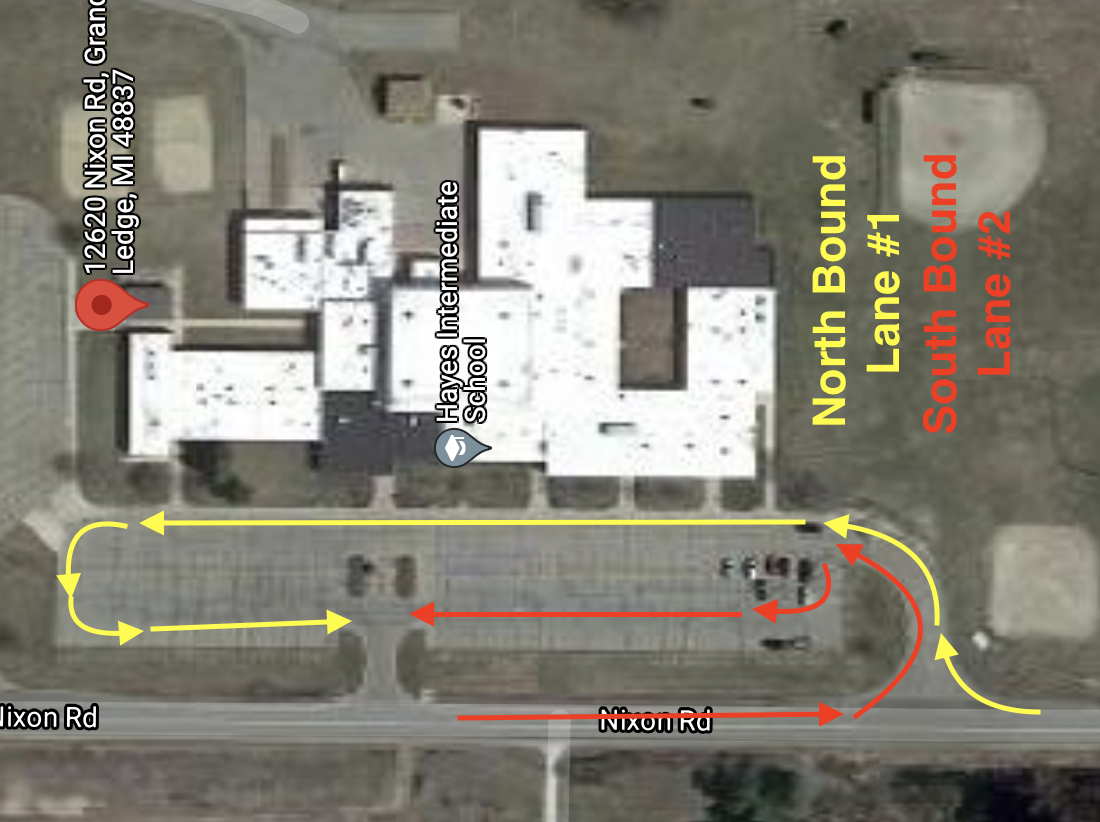 Hayes Intermediate School

12620 Nixon Rd
Grand Ledge, MI 48837
Phone: 517-925-5740
Fax: 517-925-5772
ATTENDANCE LINE - 517-925-5333
If your student will be tardy or absent please call the Hayes 5/6 Attendance line at 517-925-5333. Please leave your child's full name, homeroom teacher and the reason for their absence. We keep track of all illness for the Barry Eaton Health Dept. If your child is going to be tardy please let us know what their choice for lunch is before 8:15 am. Thank you!

Scott Millbrook
Assistant Principal
Michelle LeBlanc
Secretary
Lindsay Pelette
Secretary

Share with Our Schools
Please share your thoughts with us. Please send us a message.