Holbrook Elementary
Welcome to Holbrook Elementary!
Our Fundamental Purpose
To ensure all students acquire the academic skills, knowledge, and behaviors needed for future success.
Holbrook Mission Statement
Holbrook Elementary is a school community that provides a safe and inclusive learning environment that values positive relationships, rigorous instruction, and continuous growth for all.
Holbrook Vision Statement
Holbrook Elementary strives to model a kind, compassionate, and collaborative school culture where staff, students, and families learn with and from each other.
Holbrook Collective Values
At Holbrook Elementary, we value empathy and teamwork. We appreciate and welcome the experiences and expertise from all in our learning community.
Holbrook Elementary is a BK-4th grade elementary school serving about 450 students. Holbrook is located in the city of Grand Ledge just blocks away from Grand Ledge High School and Beagle Middle School. Thanks to the Grand Ledge community, Holbrook reopened as an elementary school beginning in the 2021-2022 school year with a new addition of classrooms for grades Kindergarten, third, and fourth. Holbrook also has a new playground, gymnasium, and updated student furniture in all classrooms.
Holbrook is well supported by an outstanding Parent-Teacher Organization (PTO) that works collaboratively with school staff to provide our students with school supplies, field trips, special events/assemblies, and school experiences that create memories to last a lifetime.
Our students have outstanding educators that empower students to be lifelong learners. We pride ourselves on setting high expectations for all staff, students, and families and work to ensure that all individuals of our school community reach their true potential. You can count on us to be committed, positive, competent, and collaborative educators. We will count on you to collaborate with us to foster a positive, engaged school community.
If you would like to learn more about our wonderful school, please contact our office. We would be happy to answer any questions and host you and your family for a visit.
Educationally yours,



Bill Albrecht, Ed.D.
Principal
(517) 925 - 5480
AlbrechtW@GLcomets.net

Welcome to the 2022-23 school year! I am very excited to lead Holbrook Elementary as principal. Our entire Holbrook staff is looking forward to working with our students and families.
STUDENT SUPERVISION
We are unable to provide supervision prior to 8:40 a.m. and after 4:05 p.m., unless your child is enrolled in Adventure Club (517-925-5787). To further our safety and security measures, our doors will remain locked until 8:40 a.m. each morning. Please keep this in mind if you are providing transportation for your children or if your children walk to school.
LUNCH | BREAKFAST & MORNING ROUTINE
All students will be offered breakfast and lunch this school year. Due to nationwide waivers for federally funded meal programs, school meals were free to all students through much of the COVID-19 pandemic. However, these waivers were not extended for the 2022-2023 school year, so Grand Ledge Public Schools will begin charging again for breakfast and lunch. Cold Breakfast: $1.75 Hot Breakfast: $2.00 Lunch: $2.75 Free or reduced-priced meals are available to students who qualify for these benefits. We encourage ALL families, regardless of income, to complete and submit a short, confidential school meal application prior to the start of the school year to ensure that there are no gaps in meal benefits for students who qualify for free or reduced-price meals.
If you wish for your child to have school breakfast, they may enter the building at 8:40 a.m. at door #14 and breakfast will be served in the cafeteria. All other students will be directed to our playground beginning at 8:40 a.m. During inclement weather, students will have access to the building beginning at 8:40 a.m. We will transition all students into the building beginning at 8:50 a.m. and instruction will begin promptly at 9:00 a.m.
SUPPLY LIST
A general grade level supply list can be found on the Holbrook Page of the District Website. If your child is in need of a backpack, please contact the main office at (517) 925-5480.
IMMEDIATE ATTENTION: UPDATE EMERGENCY CONTACT FORMS
Please log into the PowerSchool Parent Portal to verify and/or update your contact information as well as provide at least one emergency contact for your student in the event we are not able to reach you. If your address has changed, you are required to provide updated proof of residency to the Holbrook Office.
Steps to Complete this Process
1) Log into the Parent Portal (https://ps.glcomets.net/public/)
2) Click on Forms on the Left Hand Navigation
3) There will be 4 Forms For you to Complete
a. Student Address
b. Student Parent/Legal Guardian Contact Information
c. Student Contact Order
d. Student Emergency Contacts
As you work through these forms you may click on the save button and come back anytime to complete them. Once you click "Submit" the form will send a notification to your student's building secretary for their review of the changes you have made. The school will only make contact if they have questions or need additional information. If you have any questions, please contact the Holbrook office.
As always, please contact our office at 925-5480 with any questions or concerns. We look forward to a great school year.
Sincerely,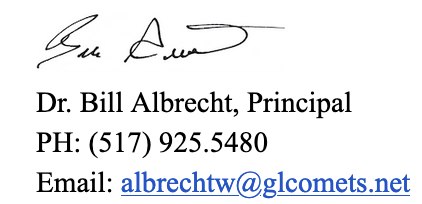 Holbrook Elementary Calendar
Holbrook Elementary Calendar

Previous

September

2022

Next

S
M
T
W
T
F
S
1
2

Sep 2

No Students (Labor Day Weekend)

Calendar:

District Calendar

3

Sep 3

No Students (Labor Day Weekend)

Calendar:

District Calendar

4

Sep 4

No Students (Labor Day Weekend)

Calendar:

District Calendar

5

Sep 5

No Students (Labor Day Weekend)

Calendar:

District Calendar

6

Sep 6

Classes Resume

Calendar:

District Calendar

7
8
9
10
11
12
13
14
15
16
17
18
19
20
21
22
23
24
25
26
27
28
29
30
Upcoming Events

Student Count Day

Calendar:

District Calendar

Homecoming Parade

Calendar:

District Calendar

The parade is October 7, and will start at 5:30 p.m. It begins at the fire station and goes across the bridge to the stadium. Spectators will want to be in their viewing spots by 5:15ish – cross streets will be blocked at this time too. There is a no candy policy to ensure the safety of all involved in the parade. The theme is Haunted Homecoming, so hopefully everyone has a spooktacular time!

High School Conferences

Calendar:

District Calendar

High School Conferences

Calendar:

District Calendar

1/2 Day for Students

Calendar:

District Calendar

End 1st Trimester (K-6)

Calendar:

District Calendar
Holbrook Elementary School
Brittany Huard
Dean of Students
huardb@glcomets.net
Nicole Conner
School Counselor
connern@glcomets.net
Therese Edgett
Secretary
Amy Hirschman
Secretary
Lanta Winn
Secretary

Share with Our Schools
Please share your thoughts with us. Please send us a message.