August 24, 2022
School Starts Next Week plus COVID-19 Info & More

August 24, 2022
Grand Ledge Public School Families,
The first day of school is Wednesday, August 31, 2022 – one week from today. It will be a half-day of school, and the start and dismissal times can be found on the Parent/Student Resources webpage.
And before that on Tuesday, August 30, 2022, all of our school buildings will be having open houses – Hayes, Beagle, & GLHS have their open houses from 4:30 - 6:00 p.m., and all of elementary schools – Delta Center, Holbrook, Wacousta, & Willow Ridge – have their open houses from 5:30 - 7:00 p.m.
There is a lot of excitement as the new school year approaches, and we hope to have another great school year!
Here's a quick overview of the topics in this message:
COVID-19 Guidance
Raptor Visitor Management System Starting
New GLPS Strategic Plan
microINSIDER Publication
Student Accident Insurance
School Meals Information
Affordable Connectivity Program
Mental Health Matters Newsletter
COVID-19 Guidance
The school district has updated its COVID-19 guidance for the 2022-2023 school year to reflect the CDC's recently updated information for schools. The information is available on our website's COVID-19 Dashboard at GLcomets.net/COVID.
Raptor Visitor Management System Starting
Grand Ledge Public Schools will be beginning to use the Raptor Visitor Management System to enhance the safety of our school buildings. The Raptor system will better allow us to screen school visitors, providing a safer environment for our students and staff.
When everything is up and running at a building, school visitors will be screened during the school day before being allowed to leave the main office and enter the school building. School visitors will be asked to present a valid, government-issued photo ID (such as a driver's license), and it will be scanned or manually entered into the Raptor system. The Raptor system will check the visitor's name and date of birth for comparison with a national database to flag concerns. No other data from the ID is gathered or recorded, and the information is not shared with any outside agency. Once entry is approved, Raptor will issue a badge that identifies the visitor, the date, and the purpose of the visit. A visitor's badge will not be necessary to drop off an item in the main office or to pick up paperwork from there.
Thank you in advance for your understanding and your support as we enhance the safety of schools with the Raptor system.
New GLPS Strategic Plan
This will be the first full school year with the new GLPS Strategic Plan. At their June 13, 2022 meeting, the Grand Ledge Public Schools Board of Education approved the Mission, Vision, & Belief Statements for the Strategic Plan. The Mission, Vision, & Belief Statements were developed by a Strategic Planning Team consisting of 35 parents/guardians, community members, board members, educational partners, students, & staff members at a retreat workshop on May 14, 2022.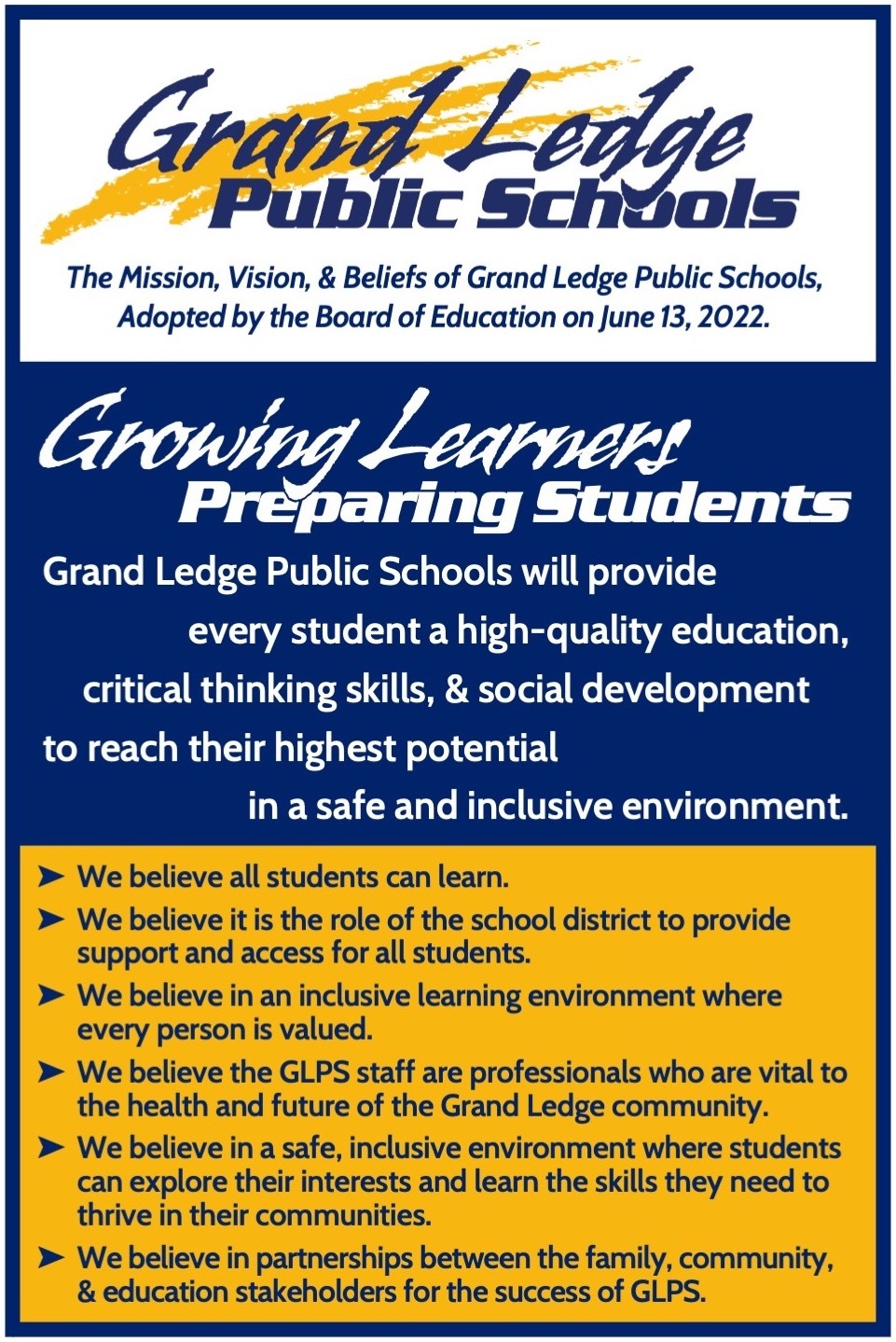 microINSIDER Publication
I hope you got our microINSIDER in the mail. It is a trifold brochure that was sent to every home within the boundaries of the school district. It is also available on our website at GLcomets.net/INSIDER.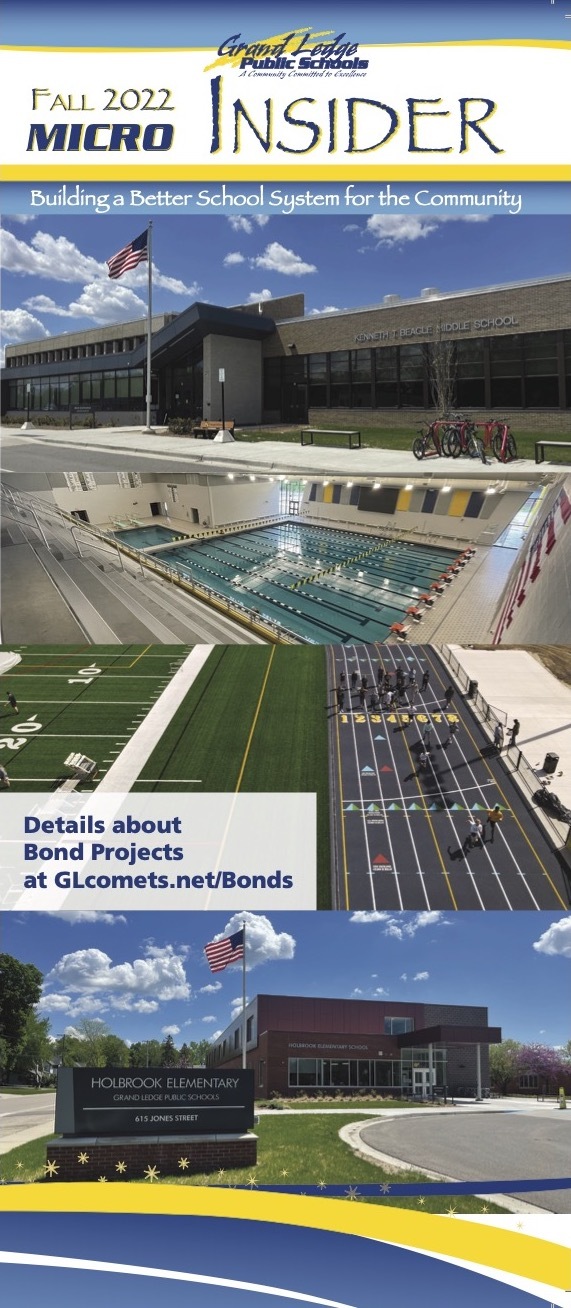 Student Accident Insurance
We encourage all families to consider accident coverage for their children. However, this coverage is strictly voluntary! For more information or to view a brochure, visit GLcomets.net/StudentInsurance.
School Meals Information
Also, a reminder that since the federal government has stopped funding free lunches for all kids (which has been part of its pandemic response), students this school year will have to pay for school meals UNLESS their family applies and qualifies for free or reduced meals. We encourage ALL families, regardless of income, to complete and submit a short, confidential school meal application prior to the start of the school year to ensure that there are no gaps in meal benefits for students who qualify for free or reduced-price meals. Families can submit this application online or in person at your child's school office. Simply click here and use the "GUEST" button to begin to complete the short, confidential application. The state issued a press release in July about the guidelines for free or reduced-price meals, and it notes, for example, that a family of four would qualify for reduced-price school meals if their annual income was $51,388 or less. Anyway, more information about school meals is available at GLcomets.net/FoodService, or you can contact Darrin Gyurich, Food Service Manager, at 517-925-5733 or GyurichD@GLcomets.net.
Affordable Connectivity Program
The Affordable Connectivity Program (ACP) is a U.S. government program run by the Federal Communications Commission (FCC) program to help low-income households pay for internet service and connected devices like a laptop or tablet. You are likely eligible if your household's income is below 200% of the Federal Poverty Line, or if you or someone you live with currently receives a government benefit like SNAP, Medicaid, SSI, WIC, Pell Grant, or Free and Reduced-Price Lunch. If your household is eligible, you could receive up to a $30/month discount on your internet service. Learn more at the Affordable Connectivity Program website.
Mental Health Matters Newsletter
Here is the most recent "Mental Health Matters" newsletter put together by Eaton RESA in partnership with a number of groups. In it you can find support resources useful for parents and youth to encourage mental health. Items in this newsletter:
FREE Stay Well Classes & Workshops for Teens, Youth, and Parents (Aug to ongoing)
FREE September Self-Care Cafe Sessions for Adults
FREE Fall Events and Walks to support mental health and suicide prevention
FREE Fall Youth Mental First Aid Trainings
FREE Eaton County Frontline Worker Training
Thank you for reading and for being a part of the GLPS community.
Thanks,
John Ellsworth