We will do our best to keep families, students, staff, and the community informed as Grand Ledge Public Schools responds to the COVID-19 pandemic. Information is often shared on social media, so please like us on Facebook and follow us on Twitter.
Starting "School" Again April 20

April 14, 2020 -- Starting "School" Again on Monday, April 20!!
"What about food for children in need?"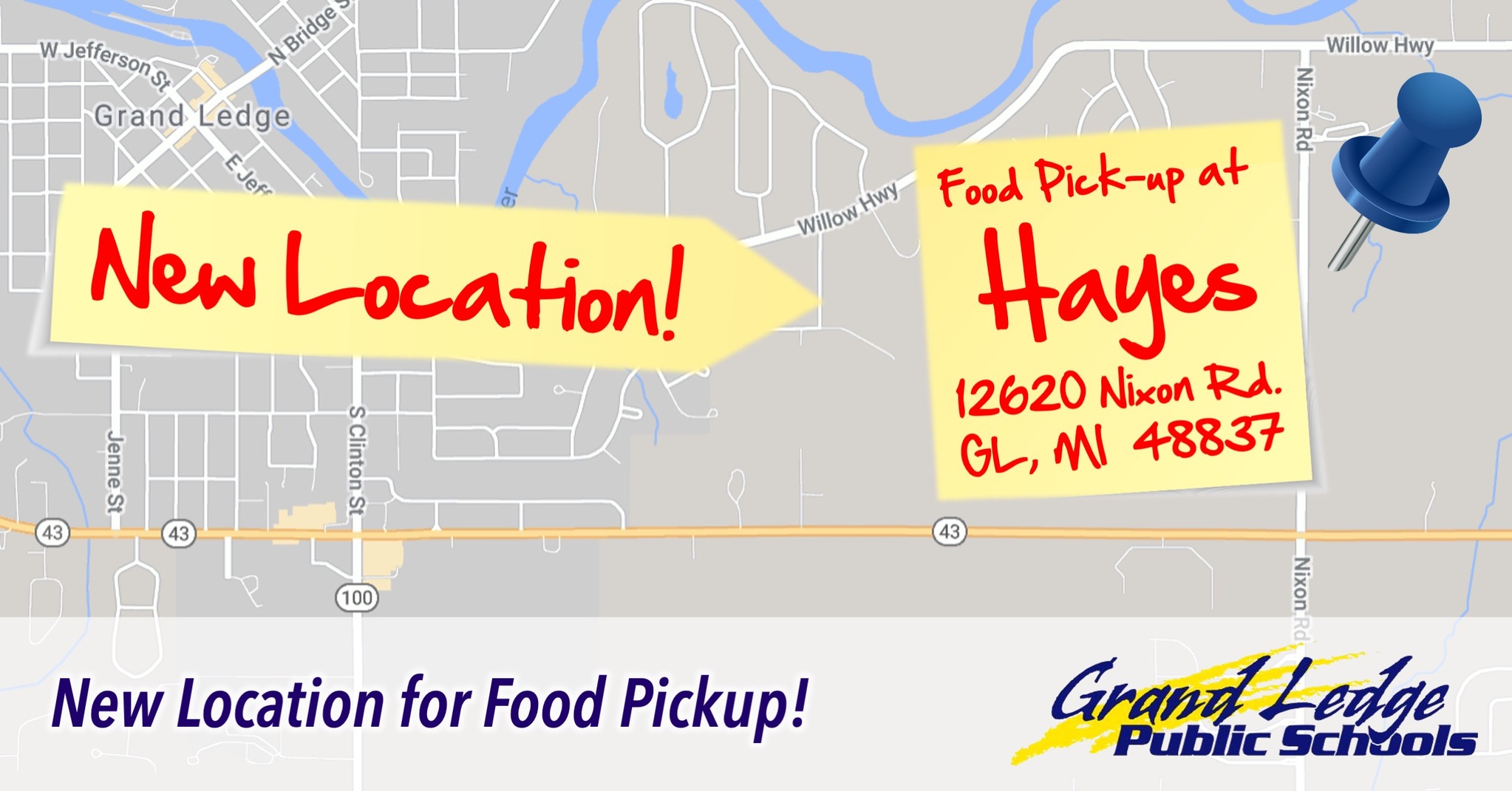 GLPS is continuing food pick-up on Tuesdays & Fridays from 10:30 - noon at Hayes Middle School (12620 Nixon Rd., Grand Ledge, MI 48837) until the end of the school year -- with our last food pick-up on Tuesday, June 2. GLPS Food Service is providing sack breakfasts & lunches for children in need (as long as we are able to do so). Tuesdays pick up will have sack meals for Tuesdays, Wednesdays, & Thursdays. Fridays pick up will have sack meals for Fridays, Saturdays, Sundays, & Mondays.
"Is this required?" and "Do students have to do this?"
We expect all of our students to participate and complete these lessons to the best of their ability. The lessons provided are meant to allow students to earn credit AND prepare them for the next school year. It will also help keep them academically engaged to reduce learning and skill loss over this time period.
The Governor's Executive Order stated, "... section 1 of article 8 of the Michigan Constitution provides, "schools and the means of education shall forever be encouraged." In the face of this pandemic, the education of K-12 students must continue as fully and effectively as possible. While there is no substitute for a highly trained and experienced teacher interacting with students in a classroom, schools must continue to provide, and students must continue to receive, the highest level of educational opportunities possible under the difficult circumstances now before us." It also states, "Decisions regarding the awarding of credit, the issuance of grades, and the use of pass or fail designations will be made at the district level by districts with due recognition of the impact of the COVID-19 pandemic."
If students or families are presented with current circumstances due to the pandemic that makes this schoolwork too challenging to engage in at this time, please know that we will be understanding. We want you to put your primary focus on the health and well-being of children and families. Our school district and teachers will be understanding and flexible with all students ... as compassion is our focus during these difficult times. Near the beginning of Michigan's response to the pandemic on March 20, the Governor said, "I will be working in the coming days to ensure our seniors graduate and that no child is held back as a result of our ability to provide face-to-face instruction during the COVID-19 school closure."
Finally, we ask that students and families also be patient and understanding as we deliver lessons in this new format, which deviates from what we know to be best teaching practices.
"I do not have internet access. What do I do?" or "What internet access options are there?"
FREE WiFi access in school parking lots -- Grand Ledge Public Schools has increased its WiFi capacity, and we are boosting the WIFI in parking lots at the High School, Delta Center Elementary, Wacousta Elementary, and Hayes Middle School, so that a student may be able to connect to our internet – while in a car, not exposed to any other students or adults.
More FREE WiFi Hotspot Access -- Xfinity WiFi hotspots in out-of-home locations will be available for FREE to anyone who needs them, including non-Xfinity Internet customers, to keep our communities connected with their friends and family. Xfinity WiFi hotspots located both indoors and outdoors in places like shopping districts, parks, businesses, and train stations will be open. Hotspots located in customers' homes are not opened to the public. You can find the exact hotspot locations at xfinity.com/wifi/#find-a-hotspot.
The state of Michigan has information: Michigan Home Internet Options* for the Economically Disadvantaged.
EveryoneOn.org can help you find low-cost internet and affordable computers in your area.
"May I borrow a Chromebook?" and "When do I return the Chromebook?"
Since we are so close to the end of the school year, we are no longer issuing Chromebooks for use at home. Questions can be sent to Mark Deschaine, Executive Director of Technology, at deschainem@glcomets.net.
We will be ready to accept the return of the Chromebook(s) we loaned to student(s) Saturday, May 30, 2020, 10:00am-2:00pm. The drop off location will be the main front door at Grand Ledge High School, 820 Spring St, Grand Ledge, MI 48837. It is essential that the Chromebooks and the proper charging cords be returned together.
We have scheduled this drop off time hoping it will be a good time for most parents. Even though we sincerely hope families can make arrangements to have the Chromebooks dropped off Saturday, we will be scheduling another time mid next week also probably 10:00-2:00. We will communicate this second opportunity to only those who don't make it this Saturday.
Due to the volume of Chromebooks anticipated and the risk of spreading the Coronavirus, we will only be taking the Chromebooks and chargers. Once we bring the Chromebooks back to the district office, they will be inventoried and return confirmations will be emailed to you within 72 hours.
"May I get paper copies instead of the online schoolwork?"
Paper copies will be available for pickup if you have called ahead of time -- call before 5:00 p.m. on Wednesday to be added to the list for Friday's paper copies. Parents can call the Academic Services office at 517-925-5403 to be added to our list of students who need paper copies. Please leave a message that contains the name/s of children, what grade/s, what building/s, and whether any children have special education services. Paper materials will be handed out each Friday morning at 10:30-12:00 at Hayes Middle School (12620 Nixon Rd., Grand Ledge, MI 48837). Once you are on the list, we will keep preparing paper copies each week. If you no longer need paper copies, please call the Academic Services office at 517-925-5403 to let us know.
"When can I get my stuff from the school?"
We are sorry for any inconvenience. At this time, we know that we have very limited access to buildings during the Governor's "Stay Home, Stay Safe, Save Lives" executive order. Each building has scheduled its own time to return materials to students and have families drop off school materials; questions should be directed to the building office about the return of materials. Again, our apologies for any inconvenience.
"When is the 'last day' of school?"
We will follow the published school calendar as best we can, so the "last day" of school will be Wednesday, June 3.
Seniors will still end on May 22.
"What about graduation?" and "What about my cap and gown?"
GLHS Principal Ken Wright continues to be in contact with the Class of 2020 and their families.
Cap & gown pickup went smoothly on May 21.
A personalized commencement ceremony will take place on Friday, June 19th, 2020 at the Grand Ledge
Community Stadium. June 20 will be our make-up date if needed due to weather. June 22 will be our make-up
date if both June 19th and 20th are postponed due to weather. If there is a resurgence of the virus in this area or another executive order, the event may be postponed or transitioned to a virtual format.
"What about Prom?" and "What about the Senior Oscars?"
We do not currently have any plans for rescheduling Prom. Our Prom committee and advisors continue to brainstorm creative alternatives. We have not completely cancelled Prom, but it has not been planned for another time/venue at this time. We will communicate more information as it becomes available.
Our Leadership group has worked hard to make this a video event of the nominees for Senior Oscars with a live revealing of the winners. Look for continued information from the GLHS Leadership students for more information.
"Are there any technology discounts available?"