GL Community Stadium Project
Grand Ledge Community Stadium Project
You'll notice some exciting changes coming this summer to the athletic stadium on Jenne Street.
Thanks to the vision and generosity of Grand Ledge community members, more Grand Ledge Public Schools (GLPS) students will have more opportunities to learn and compete in a safe and convenient facility. In addition, Grand Ledge area organizations will gain access to a convenient outdoor space for large events and activities.
The new Grand Ledge Community Stadium will feature several key improvements when it opens to the public in fall 2017. These improvements include:
Expanded space

Welcoming entrance

Synthetic turf - a grass-like ground cover that provides a consistent, year-round, all-weather playing surface built to withstand extended use without downtime for recovery

Permanent, multi-sport field markings that meet the needs of multiple athletic teams
These community-funded improvements will transform the existing GLPS football stadium into a modern facility that offers:
Improved safety

Expanded opportunity

Sustainable cost efficiencies
We want to say "thank you" to everyone who played a role in providing this safe, resilient, flexible and cost-efficient venue that will benefit many Grand Ledge student and community groups for years to come.
The Grand ledge Community Stadium project is breaking ground and on-track to be completed by fall 2017! Want to know more? Read the details below.
Why this project?
Back in early 2016, a small, core group of like-minded community members came together with a vision: Increase the usability and access of our Grand Ledge Community Stadium. They created a master plan for the GL Community Stadium Project, established a steering committee, met with the district administration and school board, and began researching for the key components of turf and construction. They had initial meetings with the athletic department, coaches and booster club representatives who all provided input related to the scope of the project. Site visits of existing turf fields were scheduled with inclusion of coaches and the athletic department.
Then, in August, after they had done their due diligence and presented their findings to the Board of Education, they received approval to begin fundraising.
This group of citizens has done a remarkable job in their efforts to raise approximately $650,000 to install synthetic turf on the field, which will provide more opportunities for our Grand Ledge students and community-at-large.
Who will benefit from the project?
We know that GLPS students in several programs will benefit immediately from this project. Those programs include:
High School Marching Band

Junior Varsity & Varsity Soccer (boys and girls)

Junior Varsity & Varsity LaCross (boys and girls)

Freshman, Junior Varsity & Varsity Football

Physical Education class

Community Recreation programs
We also anticipate other student groups will take advantage of the greatly expanded opportunities these improvements will create. In addition to students, community groups are encouraged to reserve the stadium for any outdoor event that could benefit from the seating, parking and other amenities available at the stadium.
What will Grand Ledge gain by making these improvements?
Synthetic turf is a smart solution for playing fields. A grass field simply cannot remain lush and resilient if it is used more than three to four days a week, or in the rain, or during the months when grass doesn't grow. Along with an escalating need for durable feidls that accommodate multiple sports team and activiites, the high cost of maintaining a grass sports field have prompted a rising number of schools to turn to synthetic turf to meet program needs. Today's synthetic turf is designed to simulate the experience of practicing and playing on the best grass fields.
The Synthetic Turf Council also notes that demand has grown to the point where more than 8,000 multi-use synthetic turf sports fields are now enjoyed in North American schools, colleges, parks and professional sports stadiums. About half of all NFL teams currently play their games on synthetic turf and, since 2003, over 70 FIFA U-17 and U-20 World Cup matches have been played on synthetic turf soccer fields.
Who is paying for the project?
The core fundraising group of citizens has done a remarkable job in their efforts to raise approximately $650,000 to make key improvements to the existing Grand Ledge stadium on Jenne Street. Thanks to the generosity of dozens of community donors and an investment from the Grand Ledge Public Schools sinking fund, the Community Stadium project is underway. The project will bring improvements that will provide more opportunities for our Grand Ledge students and community-at-large. Just as important, over time, the community's investment will generate cost savings that will accumulate over time, allowing more taxpayer dollars to be directed where they matter most: creating learning opportunities for students.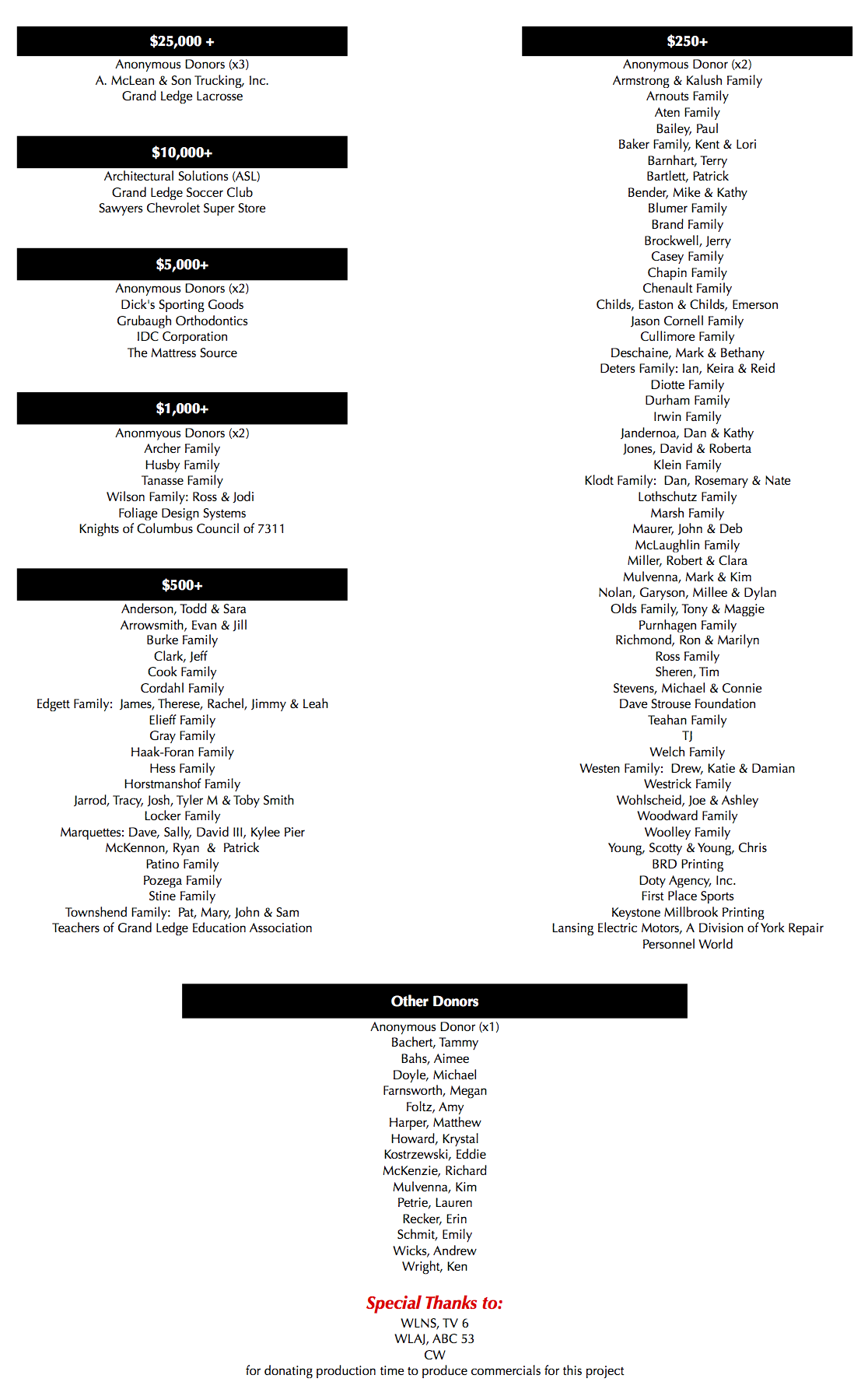 Cost Comparison: Synthetic Turf vs. Natural Turf
A synthetic turf field usllay has a higher upfront cost, but the field pays for itself over 3-4 years, proving to be a highly cost effective investment. Synthetic tuf fields are typically utilized for about 3,000 hours of play per year, with no "rest" required, the equivalent of three to four well-maintained natural fields. In addition, synthetic turf maintenance costs are two to three times less than natural turf, sing no mowing, irrigation or chamicals are needed. Because of its consistent availability, a synthetic turf field is also a reliable source of rental revenue for schools.
Cory Jenner, a landscape architect professional in Syracuse, N.Y., states the cost of installing and maintaining a synthetic turf sports field over a 20-year period (including one replacement field) is over three times less expensive per event than the cost of a grass field over the same period of time. This is because many more events can be held on a synthetic sports field.
SOURCE: Synthetic Turf Council
What about health and safety?
Synthetic Turf will provide a field without ruts, holes and bare spots that a season of wear and tear bring to a grass field. It will provide better playing conditions for multiple sports programs, band and community recreation and will extend the use of the field by providing a surface that allows payability for all weather conditions.
An independent three-year study of competitive college football showed that when compared to natural grass, the Field Turf system leads to:
20% fewer muscle strains / tears

20% fewer ligament tears

20% fewer severe injuries

12% fewer concussions

24% fewer high ankle sprains

23% fewer injuries on a 4-8+ year old surface.
An independent five-year safety study of competitive high school football showed that when compared to natural grass, the FieldTurf system leads to:
44% fewer concussion injuries combined

43% fewer ACL injuries combined

25% less time lost to long-term injuries (those lasting 22+ days)

16% less time lost to short-term injuries (those lasting 1-2 days)
A Woman's Collegiate Soccer Study concluded less severe and total injuries occurred on FieldTurf compared to natural grass. In regard to incidence of injury:
22% fewer total injuries

7% fewer substantial injuries

2% fewer severe injuries
In regard to head and knee trauma:
12% fewer concussions

18% fewer ACL and associated tissue trauma combined.
And, a 2004 NCAA study among schools nationwide comparing injury rates between natural and synthetic turf found that the injury rate during practice was 4.4% on natural turf, and 3.5% on synthetic turf.
A statement released by the Synthetic Turf Council: "The STC would like point out that this study confirms the results of more than 90 studies from around the world – including many peer-reviewed academic analyses and government reports – that have assessed the safety of artificial turf fields with recycled rubber infill and have found no evidence of health effects associated with playing on these surfaces."
Amy Griffin, associate head coach for the University of Washington women's soccer team, "has been informally tracking American soccer players with cancer since 2009" (1). She has identified 220 cases to date, 166 of them soccer players. The two most frequent cancer diagnoses are lymphoma and leukemia. The diagnoses date back to 1994, with the ages 5-24 specifically mentioned. The concern is that exposure to chemicals in recycled rubber has caused the identified cancer cases.
The number of cancer cases assembled by Ms. Griffin can appear alarming, especially to those who would expect there to be zero or very few cases of children and young adult soccer players with cancer. (Context: Leukemias and lymphomas are among the most common childhood cancers.) To provide some context, we can calculate the expected number of cancer cases among the approximately 3,000,000 registered US Youth Soccer players aged 5-19 over the past 15 years. Based on age-specific cancer rates in the US, we would expect to see 21,735 total cancer cases, including 8,820 lymphomas and leukemia's. These numbers would be even greater for the age range 5-24.
Chemicals are in anything so you need a baseline set for safety for all products. Chemicals in the synthetic turf field are below EPA set amounts. All turf fields are certified to have less than 100 ppm of heavy metals – well below the EPA's limit of 400 ppm.
Most common chemicals of concern in turf field are Arsenic, Benzene, Cadmium and Nickel
Note:
Crumb Rubber has less Arsenic than Uncle Ben's White Rice and Gerber Rice Baby Cereal
Crumb Rubber has less Cadmium than Lobster or Rice
Crumb Rubber has less Nickel than Cashews and Chocolate
Crumb Rubber has less Benzene than a can of Soda or Strawberry Jam
The National Institute for Public Health and Environment, a government run public health organization based in the Netherlands, released in December of 2016 the findings of a study conducted on potential health threats posed by the playing on artificial turf fields made from recycled rubber crumbs.
The study states "No indications were found in the available literature of a link between playing sports on synthetic turf fields with an infill of rubber granulate and the incidence of leukemia and lymph node cancer."
The student looked at samples from 100 sports fields and found that chemicals linked to these types of cancers were either absent or present in such small amounts as to be virtually negligible.
The study also found that any chemicals contained in the rubber crumbs were released on in very low quantities, saying, "the substances are more or less 'enclosed' in the granulate."
What is Synthetic Turf?
Synthetic turf is a grass-like ground cover that replicates lush, natural grass in appearance and function. When used on athletic fields, it provides a consistent, year-round, all-weather playing surfact built to withstand extended use without downtime for recovery. It provides a low maintenance, weed-free surface that doesn't need to be watered or fertililzed.
SOURCE: Synthetic Turf Council