Good Morning,
We hope that you and your family were able to enjoy the weekend! It sure was nice to have a weekend where the temperatures actually matched the season!
Within our final newsletter, we will address the locker clean out process in more detail, honor our Students of the Week, review this week's course overview, provide high school test-out information, and address our efforts towards next year.
Locker Clean Out/School-Issued Resources Drop Off
As we discussed last week, locker clean out/drop off will be on June 1, 2, and 3. We were in the building last week supporting our custodians and paraprofessionals, and many lockers were empty. In fact, nearly 70% of lockers were empty. Therefore, if your student knows their locker is empty, then please just have them drop their textbooks off outside (see section below for location). This will help to minimize the number of people in the building. Textbooks that were left in lockers were removed and allocated by school staff; therefore, please do not send students into the building to get school-issued books out of lockers. Please review the schedule below for your assigned time slot.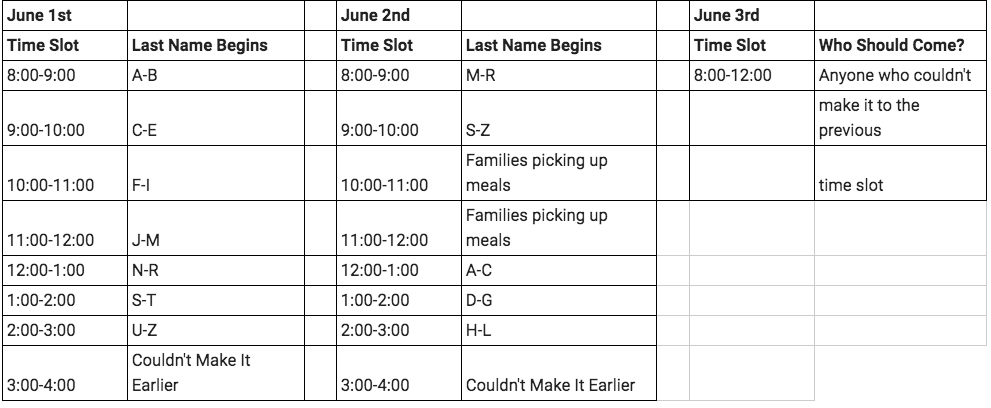 Parking and Entering Building
7th grade families should park at the North end of the building and enter through the main doors; 8th grade families should park at the south end of the building and enter through the counseling office doors. There will be a station set up in the parking lot between the counseling and main office doors where families can drop off school-issued resources without entering the building. If your student has to enter the building to get personal possessions out of their locker, we kindly ask that you park in a parking space to avoid confusion and to keep traffic moving. In addition, please line up along the sidewalk using social distancing and please wear a mask. We will be monitoring and limiting the amount of people in the building.
School-Issued Resources Drop Off, Yearbooks, and Refunds
It is imperative that the following school-issued resources be returned during this time:
Textbooks
Library books
Teacher-issued calculators
Teacher-issued novels--both whole class and independent reading
School-issued band instruments.
Chromebooks--if your student has a school-issued Chromebook, please do not bring it to Hayes. Chromebooks will be collected June 3-5th. More information to come here.
We will have tables set up outside our main entrances for students to drop off their school-issued resources as they enter the building. Yearbooks will also be distributed during this process at both doors for those that have purchased one in advance. For our 7th grade students that paid to attend the Lugnuts field trip, your money will also be refunded during this time; please let staff at your door entrance know and they will direct you accordingly. For our Band and Choir students, your money for end-of-year field trips will be refunded by our business office in June.
Students of the Week
Even though our students are engaging in school remotely, we would like to continue to acknowledge students continuing to demonstrate Comet PRIDE! The students listed below have been nominated by their teachers for their hard work and dedication; we are very proud of their efforts. Mr. Leopold and I will be hosting a Zoom session with these students later this week to congratulate them, and we will continue to acknowledge students in the weeks to come. Please celebrate the success of the following students:
Aleesa Kruse
AJ Skinner
Gabriella Rivera
Noah Warner
Also, students in Ms. Henretty's 9th-grade English class recently participated in the 21st Annual Holocaust Art & Writing Contest sponsored by Chapman University and The 1939 Society. Students listened to the testimonies of survivors and then chose a survivor's story to tell through their art or writing. Honorable mention goes to Samantha Noldy, Rachel Carlson, Taylor Reynolds, and Gabriella Van Walsum for their outstanding entries representing Hayes in this year's Memory Matters Contest. The survivor's stories will not be forgotten, and thank you for sharing their stories.
7th Grade's Weekly Outline
*Please note this learning outline goes through June 3rd.
Monday-Math- Multi-step equations with integers on both sides, targeted NWEA practice
Tuesday- ELA- Time Capsule project, continue
Wednesday-Science- Human impact on environment, SEL end-of-year with teacher
Thursday- Social Studies- Ancient Rome (Module 10) continue
Friday- Electives-- please see teacher's email to student on Friday
8th Grade's Weekly Outline
Monday- Math- Slope of a line and slope intercept, y=mx+b, continue
Tuesday- ELA- Continue reading novel The Giver (chapters 16-23), making inferences about characters and setting.
Wednesday-Science- Ocean currents and their impact on weather
Thursday- Social Studies- Civil War Reconstruction Era, continue
Friday- please see teacher's email to student on Friday
A Message For Rising 9th Graders
The high school test out information is now available on the high website.
https://www.glcomets.net/ourschools/high-school-grades-9---12/grandledgehighschool/counselingstudent-services/#testingout
Registration is open now through Friday, May 29th. Most courses have online resources available and a textbook is not necessary. However, a student may request a textbook by sending me an email by Friday, May 29th. We'll then email out pick up procedures for June 1st - 3rd. The test-out dates of August 24th and 27th are very tentative; Mrs. Rice, high school assistant principal, will continue to communicate with any registered students throughout the summer.
Efforts Towards Next Year
With this school year winding down, we are all wondering what next year will look like for our students, teachers, and parents. Unfortunately, that decision is out of our control at this time. As you may have heard, one of Governor Whitmer's most recent executive orders has mandated the creation of a council of education professionals, health experts, and community stakeholders to determine how and when our students across Michigan can safely return to school. Once this council develops a plan for all districts to adhere to under this pandemic, we will communicate the plan for our district.
Even though the direction on how and when for next year is unclear and beyond our control at this time, we have been actively working as a staff over the past few weeks to prepare for the beginning of next year. Our preparation efforts have been targeted around addressing the loss of learning this pandemic has caused, revising the scope and sequence of our curriculum to focus on essential standards, and continuing with our pre-pandemic vision of teaching to mastery and providing timely interventions. While these are trying times, our teachers have done an excellent job preparing for a variety of educational scenarios at the beginning of next school year. As next year progresses, our teachers will continue to meet, collaborate, and make necessary adjustments to their curriculum. A reminder for our current 7th grade families that orientation is tentatively scheduled for August 27th from 4:30-7:30. As always, we will continue to keep our families updated as we roll with the changes.
As always, we thank you for your continued support. Please continue to refer to our website Hayes' Home Page for up-to-date information regarding the shutdown; teacher office hours are also posted on our webpage. In addition, please feel free to reach out with any questions, concerns, or feedback. Have a great week!
Sincerely,
Dave Kushman and Eric Leopold
Dave Kushman kushmand@glcomets.net 517-925-5684 (leave a voicemail)
Eric Leopold leopolde@glcomets.net 517-925-5603 (leave a voicemail)