Good Morning Hayes' Families,
We hope that your family is well at this time. We are entering the last two weeks of our Continuity of Learning Plan, and we thank you for continuing to encourage your student to participate in their coursework over the next two weeks. It has been an interesting process along the way, and we thank you for your support and patience. Within this week's newsletter we will provide a broad overview of our locker clean out and school-issued resource drop-off process. We will repeat this information in next week's newsletter as well, and we will also include more details next week.
Locker Clean Out and School-Issued Resources Drop Off Overview
As a district, we have modified our previous plans for students to pick up their possessions and drop off school-issued resources. We have chosen June 1, 2, and 3 as the dates to engage in this process to ensure that we are upholding the "Stay Home, Stay Safe" executive order that expires on May 28th. This schedule has been systematically developed by student last name to limit the amount of people accessing the building at one time; therefore, we ask that you come during your assigned time over the first two days. Please review the schedule below: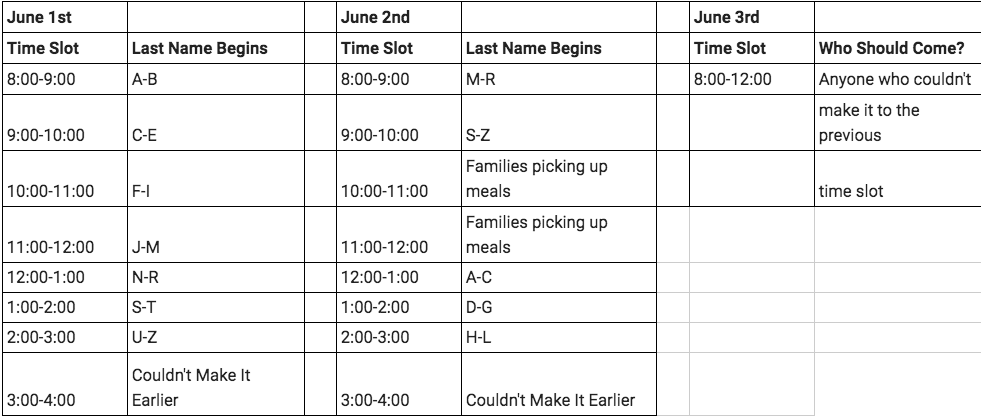 Preparations and Process
Student possessions within lockers will be bagged by custodial and paraprofessional staff in advance to expedite the process. All school-issued resources (textbooks, calculators, etc.) that were left in lockers will be collected by school staff prior to student pick up to also help limit time within the building. If your student cleaned out their locker entirely on March 13th and they only have school-issued resources to drop off, we will have a separate station set up outside to accommodate these students. School staff will be present during this time to help to systematically regulate the number of people in and out of the building. In our newsletter next week, we will have more detailed information regarding where to park, where to enter the building, and other particulars to ensure a smooth, safe, and efficient process.
School-Issued Resources Drop Off, Yearbooks, and Refunds
It is imperative that the following school-issued resources be returned during this time:
Textbooks
Library books
Teacher-issued calculators
Teacher-issued novels--both whole class and independent reading
School-issued band instruments.
We will have tables set up outside our main entrances for students to drop off their school-issued resources to ensure a continuous movement in and out of the building. Yearbooks will also be distributed during this process. For our 7th grade students that paid to attend the Lugnuts field trip, money will also be refunded during this time. For our Band and Choir students, money for end-of-year field trips will be refunded by our business office in June.
Students of the Week
Even though our students are engaging in school remotely, we would like to continue to acknowledge students continuing to demonstrate Comet PRIDE! The students listed below have been nominated by their teachers for their hard work and dedication; we are very proud of their efforts. Mr. Leopold and I will be hosting a Zoom session with these students later this week to congratulate them, and we will continue to acknowledge students in the weeks to come. Please celebrate the success of the following students:
Gabrielle Brown
Kayla Cebulski
Aidan Clewley
Meghan Helms
Lizzie McFarland
Kayden Pearce-Violante
Anneliese Pertier
Morgan Whitten
Xander Wygocki
7th Grade's Weekly Outline
Monday-Math- Multi-step equations, targeted NWEA practice
Tuesday- ELA- Time Capsule project, continue
Wednesday-Science- Favorite Outdoor Place activity
Thursday- Social Studies- Ancient Rome (Module 10) continue
Friday- Electives-- please see teacher's email to student on Friday
8th Grade's Weekly Outline
Monday- Math- Slope of a line and slope intercept, y=mx+b
Tuesday- ELA- Continue reading novel The Giver (chapters 12-15), making inferences about characters and setting.
Wednesday-Science- Predicting Weather-Cause and Effect, continuation, students use their STEMscopedia from last week.
Thursday- Social Studies- Civil War Reconstruction Era
Friday- please see teacher's email to student on Friday
As always, we thank you for your continued support. Please continue to refer to our website Hayes' Home Page for up-to-date information regarding the shutdown; teacher office hours are also posted on our webpage. In addition, please feel free to reach out with any questions, concerns, or feedback. Have a great week!
Sincerely,
Dave Kushman and Eric Leopold
Dave Kushman kushmand@glcomets.net 517-925-5684 (leave a voicemail)
Eric Leopold leopolde@glcomets.net 517-925-5603 (leave a voicemail)