Greetings Hayes' Families,
We hope you are all doing well at this time. It was great to hear from some of our students last week, and we look forward to sitting in on some Zoom sessions in the weeks to come. It's been really hard not being able to connect with our students over the past five weeks, so it will be refreshing to interact with them in the future!
As we discussed last week, we will be providing our weekly updates on Monday mornings. These updates are designed to provide parents a brief overview for the week's learning content across subject areas. Beginning today, students will hear from one of their teachers each day of the week via email, and within each email teachers will provide all of the necessary content, resources, and material for the week. Please remember that it will not be five hours worth of work for the week; instead, students should be able to complete their work each day within 1-2 hours or so. In addition, the lessons and activities provided to students will be based on standards previously addressed in the classroom with the overarching goal of strengthening and solidifying skills. Students are encouraged to check their email each day, Monday-Friday. Below are the weekly outlines:
7th Grade's Weekly Outline
Monday-Math- one-step equations and integer practice
Tuesday- ELA- introduce Time Capsule project (project for the duration of the year)
Wednesday-Science- Family Tree of Traits
Thursday- Social Studies- Ancient Greece (Modules 8 & 9)
Friday- Electives-- please see teacher's email to student on Friday
8th Grade's Weekly Outline
Monday- Math- addition, subtraction, multiplication, and division of integers.
Tuesday- ELA- utopia vs. dystopia.
Wednesday-Science- solar system and gravity
Thursday- Social Studies- Chapter 14: New Movements in America: immigrants and growth of cities, abolition, women's rights, and other social movements.
Friday- please see teacher's email to student on Friday
Teachers will also communicate their office hours to student's this week. Teacher office hours are listed below. Please encourage students to feel free to reach out to any teacher within their grade level and area of discipline if their assigned teacher is not available when working on an assignment. The assignments are universal. One last note, your child will also receive a weekly correspondence from their first hour teacher once-per-week; this check-in will be helpful to answer questions, chat with their peers, and to have a consistent connection with one teacher.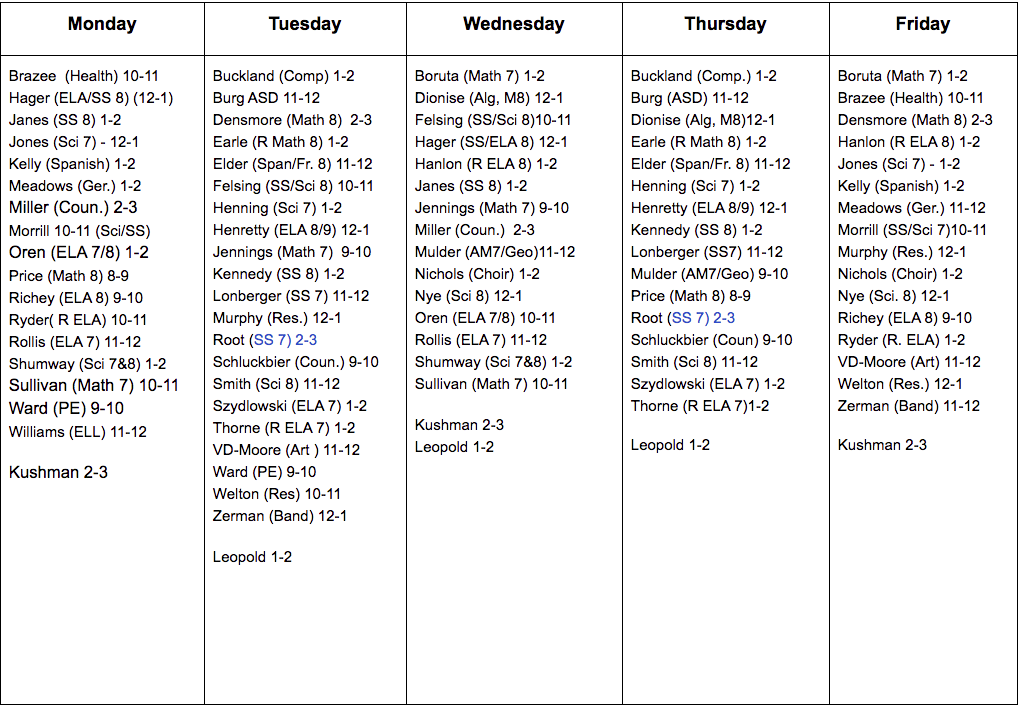 Finally, if your student needs a Chromebook, then please call (517) 925-5412, leaving a message with your child's name and school. Once the Chromebook is ready for pick up, you will be contacted. If your student needs paper copies, then please call (517) 925-5403 and follow the same process for requesting a Chromebook.
We thank you for your continued support during this novel and challenging time! If there are questions regarding particular assignments or activities, please encourage your child to reach out directly to their teacher via email. Please feel free to reach out to us if you have any questions regarding the general plan or for additional support. Hang in there!
Sincerely,
Dave Kushman and Eric Leopold
Dave Kushman kushmand@glcomets.net 517-925-5684 (leave a voicemail)
Eric Leopold leopolde@glcomets.net 517-925-5603 (leave a voicemail)