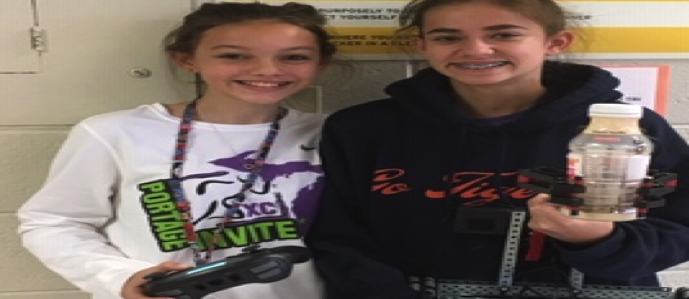 Hayes Middle School
Welcome!
As the 7th and 8th grade school for Grand Ledge Public School system, we are truly the school "in the middle," positioned between the elementary and the high school experiences. Even though the two years spent here is of short duration, we believe these years are pivotal in preparing students for their high school career. As such, our intent is to reflect the nurturing nature of our elementary schools while helping students to develop the independence and self-advocacy necessary for high school success.
We are in our sixth year as a PBIS (Positive Behavioral Interventions and Supports) school. This is is a systemic approach to proactive, school-wide behavior based on a Response to Intervention (RtI) model. PBIS applies evidence-based programs, practices and strategies for all students to increase academic performance, improve safety, decrease problem behavior, and establish a positive school culture. Our first two years have proven to be very successful as the behavior expectations have been normalized and students feeling supported academically and socially.
The foundation of COMET PRIDE is based on the following expectations:
Be Positive
Respectful
Have Integrity
Determination
Give our best Effort
Our staff understands that developing positive relationships with their students is critically important for them to learn and to grow. Further, they know that we need to challenge students and to have high academic expectations for them. Our intent is for all of our students to grow at least one year or more academically for each of the years they are here. It is our mission to guarantee every student is challenged, supported, respected, and engaged every day.
Our 2017-18 school improvement goals are:
All students at Hayes MS will be on track to be college and career ready readers and writers.
All students at Hayes MS will be on track to be college and career ready in math.
All students at Hayes will show Comet Pride.
Improve student attendance at Hayes MS.
Hayes Middle School is a positive place for young teens to be. Our door is always open. Please feel free to contact us if you have any questions or we can be of service to you.
Respectfully,
Mrs. Julie Taylor, Principal