GLHS Intervention Centers
The Intervention Centers are staffed with certified teachers. Please check the schedule below before making plans to attend before or after school. During the school day students need to have their classroom teacher's permission before attending the help room unless it is during the lunch period.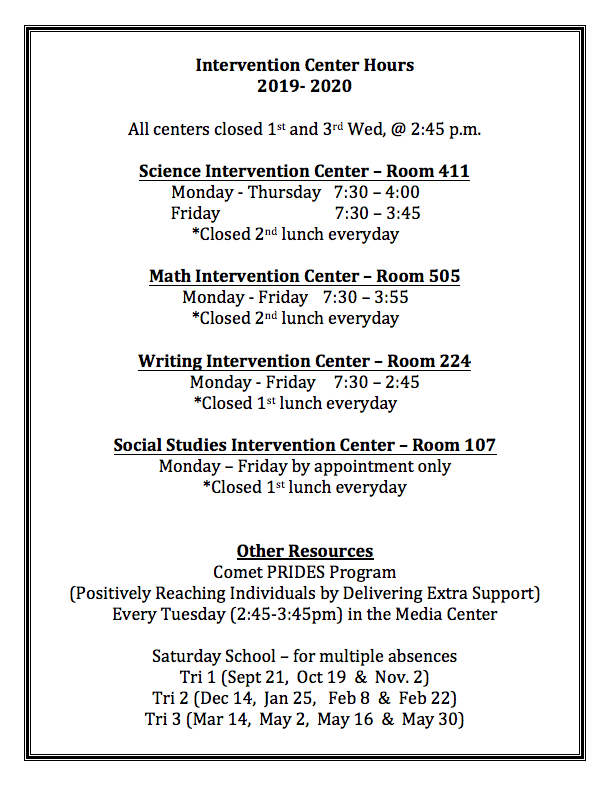 Tutoring Services
Here's a list of a few local centers offering tutoring services.
Grand Ledge Area District Library – Click here for main web site.
Click here for the direct link for tutor.com. is http://www.tutor.com/grandledgeareadl
Click here for School Tools
Erikson Learning Center​​
4710 W. Saginaw Hwy Suite 1
Lansing MI 48917
(517) 327-9506
Rise and Shine Tutoring and Academic Services
www.riseandshinetutoring.com
(517) 490-5618
Email: info@riseandshinetutoring.com
Sylvan Learning Center
6452 Millenium
Delta Township, MI 48917
(517) 323-2008
The Learning Concern
403 S. Clinton St.
Grand Ledge, MI 48837
(517) 627-0711
YES Center
Free Math Tutoring through Algebra 2 Mondays & Wednesdays 3:30 pm -4:30 pm
327 Harrison St.
Grand Ledge, MI 48837
(517) 925-5460
Multiple Subjects
Mathematics
English
Science
General
Inventories