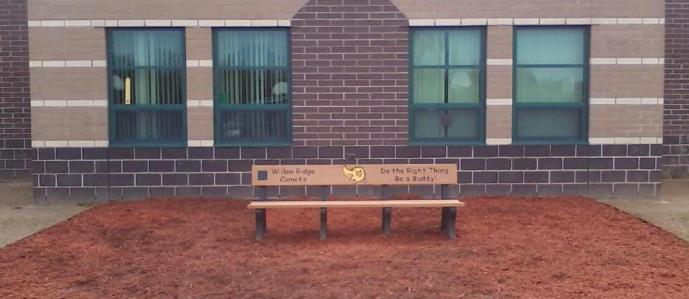 Willow Ridge Elementary
Welcome!
At Willow Ridge Elementary our staff strive to ensure every child's success. I am proud of our staff and their commitment to the students of this district.
There are always opportunities for parents to be involved in school activities through our PTA or in your child's classroom.
Please do not hesitate to contact our office to answer any questions you may have about Willow Ridge Elementary or our programs.
Respectfully,
Jim Gee, Principal
One School - One Book
Our March is Reading Month endeavor, One School - One Book is off to a great start! You know we are reading Friendship According to Humphrey by Betty G. Birney and that we are focusing on the theme of what it means to be a great friend. In the halls you can see various posters (most made by students) highlighting quotes about friendship, or examples of it in their lives. We have trivia questions going on where students can earn prizes in their classrooms. We also have one of our very own GLPS Board member, Mrs. Denise DuFort, who recorded herself reading some of the chapters for students to read along with her. Here is the link to watch if your child would like to do that: https://bit.ly/2SSCTXP.
Willow Ridge Calendars
Willow Ridge Calendars

‹

April

2020

›

S
M
T
W
T
F
S
1

Apr 1

NO STUDENTS - Spring Break

Calendar:

District Calendar

2

Apr 2

NO STUDENTS - Spring Break

Calendar:

District Calendar

3

Apr 3

NO STUDENTS - Spring Break

Calendar:

District Calendar

4
5
6

Apr 6

Classes Resume

Calendar:

District Calendar

7
8
9
10

Apr 10

NO STUDENTS - Good Friday

Calendar:

District Calendar

11
12
13
14
15
16
17
18
19
20
21

Apr 21

4:30 PM to 7:30 PM

High School Conferences (4:30 - 7:30 pm)

Calendar:

District Calendar

22
23

Apr 23

4:30 PM to 7:30 PM

High School Conferences (4:30 - 7:30 pm)

Calendar:

District Calendar

24
25
26
27
28
29
30