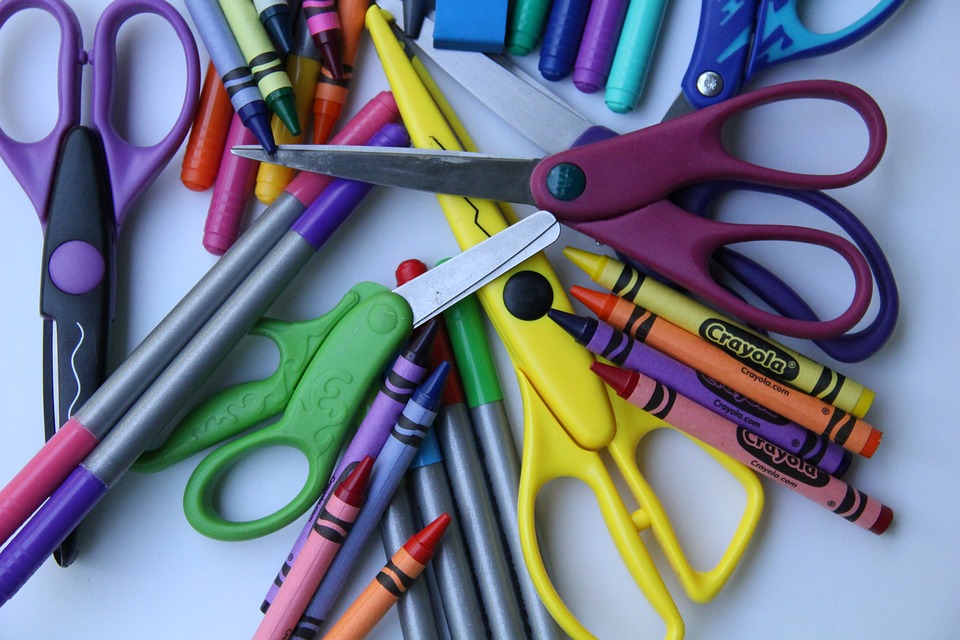 Student Supply Lists
Delta Center Student Supply Lists for the 2018-2019 School Year
First Grade
Welcome to First Grade at Delta Center! We are excited to meet you in the fall! Below is a general supply list for first graders. Please note, when you are assigned your teacher at Open House in the fall, there may be additional items specific to that teacher. PLEASE do not put your child's name on the items below, unless it specifies. Thank you!
Ticonderoga pencils
Thin, black whiteboard markers
4 or more small Elmer's glue sticks
1 pack of blank index cards
Disinfectant wipes
Kleenex
2 boxes of 24 count Crayola Crayons
2 pink erasers
Hand sanitizer (no travel sizes please)
Mr. Sketch Scented markers
Oversized art shirt with your child's name on it
Sony Headphones MDRZX100 with your child's name on it
Backpack with your child's name in it
Second Grade
Your second grade teachers are looking forward to meeting all of you next year! Second grade is an exciting time full of lots of new and exciting things. Two of our classrooms will be in the first and second grade wing and two of our rooms will be in the second and third grade wing. To help you get ready for second grade we are sending a list of things you might like to have for the beginning of the school year. We know that most of the back-to-school sales happen in the summer before school starts and we want to make sure you can take advantage of the wonderful low prices that stores will be offering in late July and early August!
Regardless of who your teacher is, it would be helpful for you to have the following items:
1 white 1-inch 3 ring binder (with a clear-view, slide-in front cover)
1 white 1-inch 3 ring binder (with a clear-view, slide-in front cover)
3 spiral-bound 1 subject notebooks (usually about 70 pages)
1 set of headphones or ear buds. We highly recommend small headphones that sit outside of the ear and on top of the head because ear buds are often too big to fit into a child's ear. Please check to be sure that the headphones or ear buds fit your child! ($10 or less)
Colored pencils (already sharpened)
Crayola markers, box of 8 (the fat markers work best)
Box of crayons, 8-24 count
6 glue sticks
Scissors (child size)
several hand-held erasers (not pencil-top erasers)
several thin, Expo brand dry erase markers (black only!)
1 box of Ticonderoga pencils
1 multi-pack of highlighters
You may want to double up on the supplies like crayons, markers and glue sticks, as these tend to get dull and dry out. They usually need to be replaced second semester and are much cheaper to buy in the summer.
If you are unable to purchase any of these supplies, they will be made available to you within the classroom.
We are all looking forward to working, learning, and growing with you next year. Have a great summer and we'll see you in the fall!
Sincerely,
The Second Grade Teachers
Third Grade
Hello, friend!
Your future third grade teachers can't wait to meet you in the fall! Here is a suggested list of supplies that will be helpful to have in class next year.
Colored pencils (already sharpened!)
Crayola markers, box of 8 (the fat markers work best)
Box of crayons, 8 – 24 count
3 glue sticks
Fiskars scissors (child size)
1 wide-rule notebook, single subject
2 folders, with pockets
highlighter(s) (more than one color is nice!)
pencil sharpener to keep in your desk
small (1 inch) 3-ring binder ( must fit in our desks!)
composition book
3 packs of post-it notes (3x3)
We are looking forward to working, learning, and growing with you next year!
Sincerely,
Mrs. Martin
Mrs. Nelson
Mrs. Rycus
Mrs. Shepard
Fourth Grade
Just in case you are going shopping for School Supplies for Fourth Grade next year; here are some items you may want to include:
FOR SCHOOL:
Backpack to carry every day
3 Colored Folders with Fasteners (Red, Green and Blue)
Pencils
Erasers
2-Ball Point Pens (Red and Green)
3 Packs of Sticky Notes (lined or unlined; 3x3 or larger)
3-Highlighters (all different colors)
1 Pack of 3x5 Index Cards
Colored Pencils/Markers
Scissors
*****No Binders or Trapper Keepers. We do not have room in our desks for them.
Classroom Wish List:
Kleenex
Hand Sanitizer
Sanitizing Wipes
Sandwich Bags
Dry Erase Markers
*This is not required for next year but, if you are out school shopping and want to take advantage of the sales these are some items your student may want.
Fifth Grade
Dear Parents,
Welcome to 5th grade! We have supplies available in the classroom for our students, but we know that some students like to have their own materials. Since the "back-to-school" sales start early, we've created a list of suggested supplies. Remember: The list is intended to help you take advantage of sales, if you choose, but is not a required list.

colors: colored pencils and thin markers
highlighter
2 glue sticks
scissors
red pen
hand held pencil sharpener
box of facial tissues and container of disinfectant wipes
2 packs of sticky notes (2x2 or larger)
2 dry erase markers and clean sock to use as an eraser
5 spiral notebooks
Students will need to have a way to separate work/papers for 5 classes: Perhaps it's a small three-ring binder with tab dividers, accordion folder, or a pocket folder for each subject area. We want students to use a system that works for them, not one size fits all. Our space is limited and all supplies (both personal and school provided) must fit into the student desk. Therefore, students will not be able to have large binders or zipper style binders.
Planner and Time for Kids: 5th grade students also use a planner, just like in 4th grade. The planner will be available at the beginning of the school year. We will also use "Time for Kids" magazine to reinforce non-fiction reading skills and current events. Price will be determined at the beginning of the year.
Have a wonderful summer and we look forward to working with you next year!
- Mrs. Boucher, Mrs. Caylor, Mrs. Lutz, and Mr. Schuchaskie
Sixth Grade
6th Grade Classroom Supply List:
Binder – to hold lose-leaf paper, a pencil pouch and folders (see below).
Paper – loose leaf wide-ruled lined paper in the three-ringed binder.
Pocket Folders (5) – one for each academic subject: Math, Science, Social Studies, Reading and Writing/Spelling. These should fit into the student's binder.
Pencils – a box of sharpened pencils to be kept in your student's locker, as well as pencils in the binder's pencil pouch.
Art supplies (colored pencils/markers/scissors/glue sticks galore) in a small box or pouch to store supplies in locker. We have easy access to lockers, so they do not need to fit in the binder.
Spiral Notebook (2) – one each for Reading and Writing
Index cards – any size, any color; 3 packs used for vocab flash cards (not needed if student brings an internet-ready electronic device – see below).
**Optional calculator: TI30XIIS recommended (not needed if student brings an internet-ready electronic device – see below).
**Optional electronic device: An internet-ready electronic device such as a SmartPhone, iPodTouch, or Tablet (anything that can use our wi-fi to access the internet).
Class donations of Disinfecting Wipes or Kleenex for your Homeroom Teacher is always appreciated.