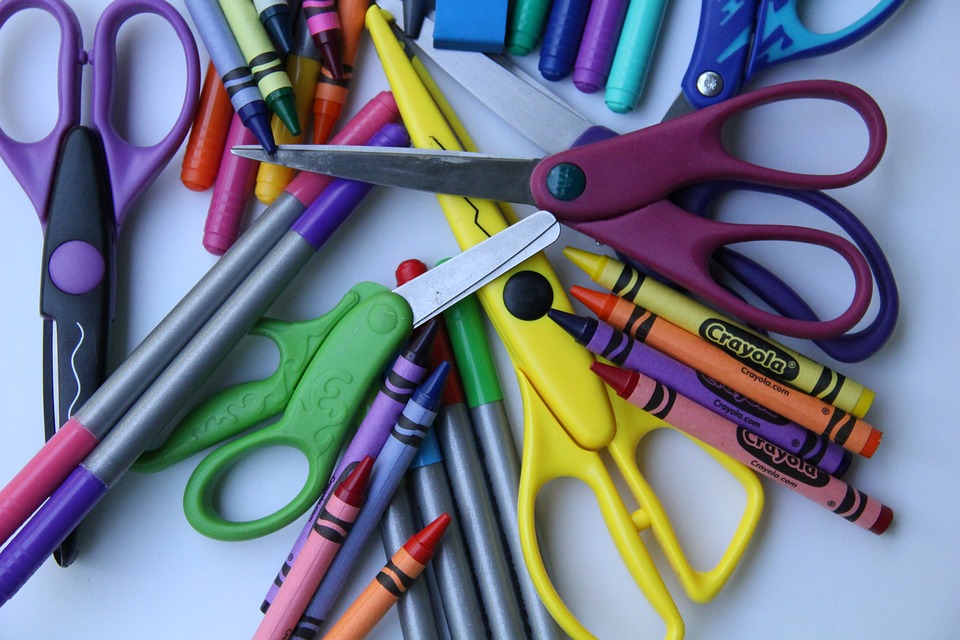 Student Supply Lists
Student Supply Lists for the 2019-2020 School Year
First Grade
1 white 3-ring binder (1 inch with clear plastic cover)
1 pair of headphones for use with iPads
4 heavy duty plastic folders with prongs & pockets
--------No need to personalize the items found below as they will become community supplies------------
1 pack of 24 pencils - Ticonderoga Brand is preferred
1 box of crayons - Crayola is preferred
2 black thin dry erase markers - Expo is preferred
1 large pink eraser
1 pack Crayola markers (thin or thick)
2 yellow highlighters
2 large boxes of facial tissues
1 large pack of unscented baby wipes
1 large bottle of hand sanitizer
1 large roll of paper towels
2 boxes of graham crackers
Second Grade
1 box 24-count crayons*
1 pencil box*
1 pair of scissors*
1 notebook*
1 1-inch white binder*
2 glue sticks
1 box Crayola markers or colored pencils
1 box of Ticonderoga pencils
1 pink eraser
2 boxes of tissues
1 roll of paper towel
2 black Expo Markers
1 container of Clorox wipes
2 black Sharpies
Non-perishable snacks (for students that forget)
*These items can be labeled with child's name.
Third Grade
1" white binder with white plastic cover
3 Composition notebooks (ELA, Math, Writing)
Sharpened #2 pencils (at least 12)
Pencil Sharpener (manual)
Crayons and colored pencils
Dry Erase markers (3-5) fine tip, preferably black
Highlighter markers (2) fine tip
Highlighter markers (2) fat tip
Scissors
Glue sticks (6 or more)
Pencil box (to hold above items) – must fit inside desk
Boxes of tissues*
Hand sanitizer*
Disinfecting Wipes*
Ziploc bags (boys – sandwich & gallon, girls – snack & quart)*
Construction paper*
Post-it notes (variety)*
Notecards (variety)*
*These items can be lableld with chld's name.
Fourth Grade
1 spiral notebook

1 composition notebook

Sharpened pencils

Erasers/eraser caps

Crayons

Colored pencils

Glue sticks (for the class)

Scissors

Pencil bag ( Not a box, only 1 please, they do not need two. )

Handheld pencil sharpener

2 box of Kleenex

Folders (1 of each – green, black, yellow, blue, red)

1 container of wipes for washing desks/hands

2 packages dry erase markers (for the class)

1 package of sticky notes (for the class)

2 highlighters (for the class)

Headphones to use with iPads (please label with name)*
Zip lock bags (boys – gallon, girls - quart)*

Pens (blue)*

1 pack of loose leaf paper*

Hand sanitizer*

Scotch tape (for the class)*

Sharpie markers*
*These items can be labeled with child's name.
Fifth Grade
No. 2 pencils (LOTS)
Erasers
6 folders that have pockets (we suggest a different color for each subject)
3 Spiral notebooks
3 or 4 Boxes of Kleenex
2 or more glue sticks
Bic 4-Color pen (red/blue/green/black)
A set of colored pencils
A pencil box/bag to hold small writing and art materials
Scissors
Personal pencil sharpener (one that collects shavings)
Highlighters - one of each color (blue, green, yellow, and pink)
2 packages of sticky notes
Dry erase Expo markers (6-pack)
*These items can be labeled with child's name.
Sixth Grade
4 dry erase markers
2 highlighters
3 boxes of tissues
LOTS of pencils & erasers
Pencil holder of some kind (box/pouch)
Personal pencil sharpener that collects shavings
1½ inch three-ring binder
1 set of 5 tab dividers
Personal package of colored pencils or markers
Multi-colored pen for correcting
Personal student scissors
2 glue sticks
2 one-subject wide-ruled spiral notebooks
2 two-pocket folders