September 1, 2021
Dear Beagle Parents,
We are reaching out at this time with updates regarding our open-building/open-house tomorrow. In addition, we are also sharing our bell schedule, information regarding lunches, and a reminder about our parking lot expectations, which includes a supportive video.
Before we begin, please be sure your student has logged into PowerSchool to view their schedule. If your child is able to print their schedule at home, then please have them do so. If they are not able to print, then we can provide them a printed schedule during the open-building tour on Thursday, September 2nd.
Thursday's Open-Building/Open-House Tour:
Please note that construction and clean-up crews continue to actively work at Beagle, and they will continue to do so during our open-tour/open house on Thursday, September 2nd. Therefore, there may be items in hallways or areas of the building that are in need of some cleaning, and we appreciate your patience with this. Crews will ensure the building is fully cleaned and orderly for the first day of school.
The open-building tour is scheduled as follows:
7th grade: 8am-11am
8th grade: 12pm-3pm
The open-building tour is an opportunity for students and parents to:
Take a self-guided tour of the building, locating their classrooms
Obtain a printed schedule if unable to print at home
Drop-off medications with medical staff
Please note: that teachers are unavailable during the open-building tour as they are actively setting up their classrooms. As you are aware, teachers were not able to get into their classrooms until this week. Teachers will be available to meet and greet with students and parents as noted below during the Open-House from 4:30-6pm.
Update: emergency contact forms will not be passed out at this time. Students will receive their emergency contact forms to take home the week of September 13th in Check and Connect Class.
The district-wide open house is scheduled for 4:30pm-6pm at Beagle. This is an opportunity for families to meet teachers. Unfortunately, we will not be able to complete the tasks listed above for the open-building tour during the open house due to time constraints and the potential for high traffic volume through the building. We strongly encourage parents and students to come to the open-building tour with the open house being completely optional later in the day.
Our Bell Schedule
We have included our full-day and half-day bell schedules below for the year as the first day is a half-day. This information, including our ½ day schedule can be found on our Beagle Middle School Webpage, which is where we house a great deal of information. Please note that all passing periods are five-minutes in duration, and first hour is slightly longer in duration for announcements and to tabulate lunch counts for our cafeteria staff.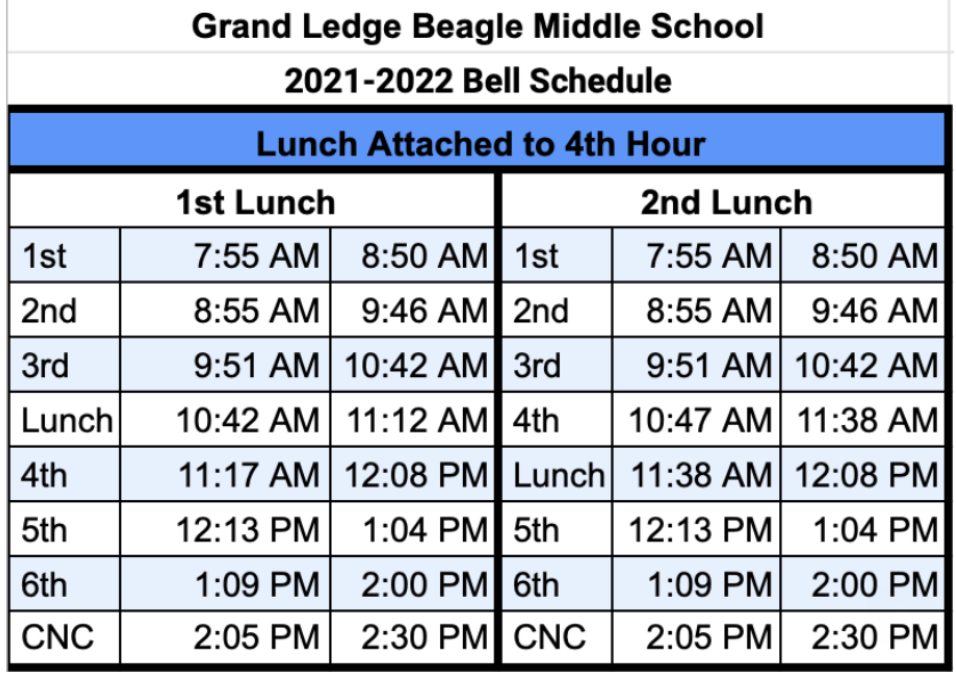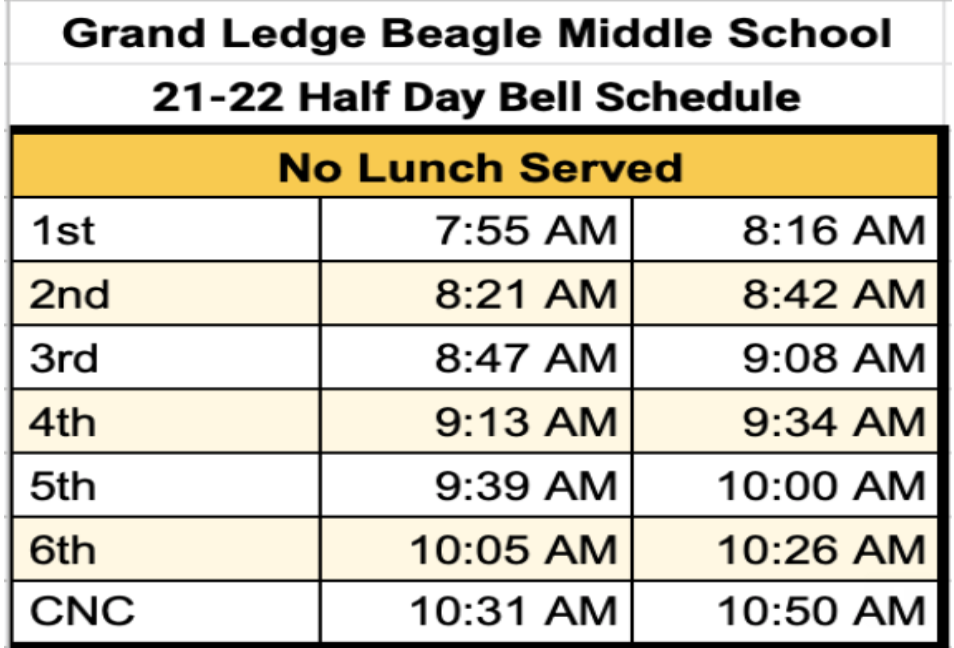 Lunches
We will have two, thirty-minute lunches at Beagle: first lunch is from 10:42-11:12, second lunch is 11:38-12:08. If a student has first lunch, they will attend hours 1, 2, 3, and then head to lunch. If a student has second lunch, they will attend hours 1, 2, 3, 4, and then head to lunch. Lunches are assigned by 4th hour teacher. On the first day of school, 4th hour teachers will inform students what lunch they will have for the year.

Arrival/Departure Expectations for the School Year
Please review our Arrival/Departure Video. The information below was provided to parent's last week. Please be sure to review these expectations to ensure the safety of our children, and to also ensure timely arrivals and departures.
To ensure the safety and wellbeing of our students, students will be permitted on campus beginning at 7:40am. This will allow for proper supervision of students, safety within the parking lot, and supervision at crosswalks.
For Foot Traveling Students: we will have two staff members along W. South Street, one at the main entrance and another at the intersection of W.South and Brookside; this is to ensure the safety for students that walk to school. Foot traveling students are encouraged to use these two points to cross W. South Street to ensure safety.
For Parents Dropping Off: parents are expected to drop-off along the curb at the front of the building within Beagle parking lot (right lane). The left lane cannot be used for drop off as it compromises the safety of our students. The left lane is for traffic to keep moving through the parking lot. Please be sure to pull all the way forward, passing the main entrance before stopping to drop off your student.
M43 Entrance--dropping off students at the roundabout just before the entrance to the main lot is not permitted. Students traveling through this roundabout creates a serious safety hazard; in addition, it will slow the flow of traffic. If you enter from M43, please follow our expectation of looping through the parking lot to drop your student off along the curb at the front of the building, using the right lane to do so.
Bus Riders--buses will enter the bus loop on the South end of the building and loop around the back of the building in a clockwise fashion, exiting Beagle along W. South Street. Therefore, it is highly recommended that if parents enter from W. South Street, they should exit out the M43 entrance when leaving for both arrival and departure to avoid bus traffic.
For after school, we kindly ask that parents and students follow these same expectations. Students are to be off campus by 2:45pm each day. Students will not be permitted to cross the parking lot or walk out to the roundabout on M43. Students are to be picked up as directed along the curb, at the front of the building. Please be sure to pull all the way forward and use the left lane at slow speed to keep traffic moving along. We appreciate your consistent follow through with these safety expectations.
We look forward to seeing you on Thursday, September 2nd or on the first day of school, Tuesday, September 7th. Please reach out if you have any questions or concerns.
Take care,
Dave Kushman and Eric Leopold