Dear Beagle Middle School Parents,
Here are some updates that we wanted to share with you:
Dance Tonight: As stated in yesterday's email to all parents, dance tickets must be purchased online to attend the dance tonight. The link will be open until noon today. There are no tickets sold at the door. The dance will end at 8:30, and we kindly ask our parents to pick up their students promptly at 8:30 tonight so that staff and volunteers can get home to their families at a reasonable time. We also wanted to thank our PTO and volunteers for organizing and supporting this activity; we are looking forward to it!
PSAT Presentation in Check and Connect: This week during Check and Connect class 8th grade students were provided a detailed presentation about the PSAT. We feel it's beneficial that students understand what the PSAT actually tests (Math and ELA), and that they need to take this test seriously as it prepares them for future success on the SAT. Within this presentation, we explained to students that they will continue to take the PSAT in 9th and 10th grade and that the test will become progressively more challenging leading up to the main event in 11th grade: the actual SAT. We also provided students with test-taking strategies, including using the process of elimination, taking an educated guess, and pacing themselves during the test. The reality of this assessment is that students will not know every answer to every question, so we wanted to provide these strategies in advance to ensure they complete the test as it is timed. The PSAT is multiple choice.
Room Assignments for PSAT, 8th Grade Only: Room assignments will be posted throughout the building on Monday and Tuesday next week. 8th-grade students will be reminded during morning and lunch announcements to look for their room assignment for PSAT testing (see below).
Wednesday, April 13th–8th Grade PSAT in AM; Half-Day PM for All: On Wednesday, April 13th, all 8th-grade students will engage in the required state standardized test known as the PSAT. Our 8th graders will test in the morning, arriving at school at the normal time, while our 7th graders will stay home for the morning. 7th graders bus routes will run about 3.5 hours later in the day to bring our 7th graders in for a half-day beginning at 11:10 am. After testing, our 8th graders will also engage in a half-day of instruction. Lunch will be provided to both 7th and 8th-grade students. It is imperative that our 8th graders arrive on time as testing begins promptly at 8 am, and students will be expected to be in their testing room by 7:55 am. If students arrive late, they will not be allowed into their testing rooms. We will send all 8th-grade parents a reminder on Tuesday evening next week via School Messenger.
8th Graders Should Bring the Following on April 13th: 8th graders should bring two, sharpened #2 pencils. Also, if your student has a scientific calculator, then they need to bring that on Wednesday as well. If your student does not have a scientific calculator, our math department is aware of this, and they will be provided a calculator. Snacks and water are permitted in the testing room, so please feel free to send them along with some snacks and water.
7th Grade Parents–April 13th: 7th-grade students will be allowed into the building at 11 am next week on Wednesday. We cannot allow them in earlier due to PSAT testing protocols. When students arrive, they are to enter through the cafeteria doors and head into the gym. There will be staff supervising drop-off in the cafeteria and gymnasium. At 11:10, 7th-grade students will be released from the gym to attend their 4th-hour classes. Please see the half-day schedule in the next section. We will send a reminder to all 7th-grade parents via School Messenger on Tuesday evening.
April 13th Half-Day Schedule for 7th and 8th Grade Students: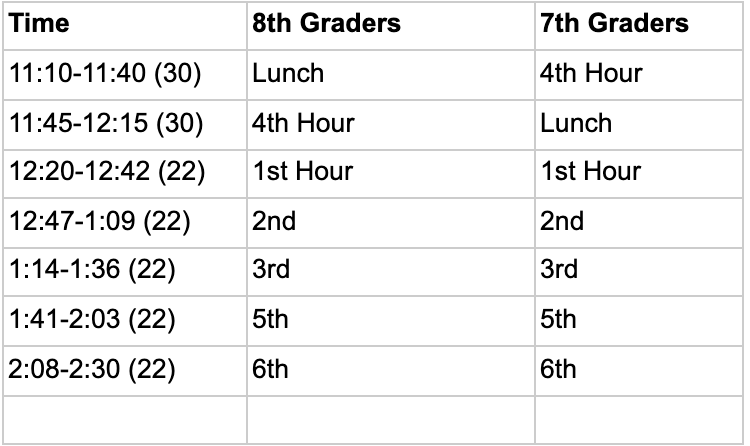 Strength and Agility Training: Students intending to play fall sports are invited to free strength and agility training in the Grand Ledge High School weight room on Mondays, Tuesdays, and Thursdays from 2:55-3:55 pm.
Middle and High School Pom Pon: Students interested in pom pon should stop down to the Student Services office for information regarding Pom Pon tryouts. There will be a parent meeting on April 25th.
Middle School Tennis Club: Practices begin the week of April 11th. Students interested in this should stop down to the Student Services Office to obtain more information. Students interested in Tennis Club should register on the Grand Ledge Community Recreation page.
Hayes/Beagle Joint PTO: The next PTO meeting will be on Wednesday, May 4, 2022 at 6pm via Zoom. We welcome and encourage Beagle parents to attend our PTO meetings. Here is the recurring Zoom link for future PTO meetings: https://us02web.zoom.us/j/82744686994. You can also stay up-to-date with the Hayes and Beagle PTO by following them on Facebook.
Students' of the Week, Extra Curricular, and Community Resources: To view our students of the week or to review additional community/extra curricular information on our webpage, then please click https://www.glcomets.net/ourschools/beagle-middle-school/ and then click on the appropriate link on our homepage.
These are all the updates that we have for now. Please feel free to reach out with any questions or concerns.
Take care,
Dave and Eric