August 22, 2022
Dear Beagle Middle School Parents,

As we are gearing up for another school year, we wanted to reach out this week to provide some important updates and reminders for this week.
Optional Schedule Pick-Up, Student Pictures, and Chromebook Distribution:
7th Grade: Wednesday, August 24th from 8am-12pm in the Beagle cafeteria.
8th Grade: Thursday, August 25th from 8am-12 pm in the Beagle cafeteria.
Despite the miscommunication parents received from Geskus, 7th grade student pictures will be on August 24th; 8th grade student pictures will be on August 25th. If you did not receive any communication from Geskus Photography, they will have all of the necessary forms available for parents the day of schedule pick up for your student. If you are not able to make schedule pick-up, picture make-up day will be on October 4th during the school day.
Thanks to the hard work and dedication of our technology department and Ms. Morgan Douglas, Librarian, we will be distributing Chromebooks on August 24th and 25th. Please note, however, that if you are not able to make it to the schedule pick-up, your student can obtain a Chromebook during the first full-week of school. In addition, teachers will not be using Chromebooks until Thursday, September 8th. If your student is not able to obtain their Chromebook during schedule pick-up, there will be ample opportunity to do so before school (7:40-7:55), during recess, or after school beginning Tuesday, September 6th.
Schedules: Student schedules will be viewable in PowerSchool for both students and parents beginning Wednesday, August 24th at 8am. Please note that we do not honor teacher requests for classes. In addition, we are not able to make schedule changes due to primary elective requests not being fully satisfied. Schedule changes will only be honored if something is completely amiss with a student's schedule. Please email Jennie Hernandez, Student Services Secretary, to obtain a course change request form if you feel something is completely amiss with your student's schedule.
Lockers: Student locker number and combination will be posted on student schedules. Students can find their locker and practice their combination during the schedule pickup sessions. Students will be expected to store items in their locker during the school year.
Lunches: At Beagle, we have two lunch periods, which are 30-minutes in duration. This year, both lunches will have an equal amount of 7th and 8th graders. This allows for us to have a student-centered master schedule that is based on providing necessary and timely interventions while also providing diverse, career-oriented electives to our students. Assigned lunches will also be listed on schedules. Please note that lunches are assigned based on students' 4th hour teacher, and requests for a specific lunch cannot be honored. Additionally, a student's lunch period may change during the year.

Beagle Bell Schedule: Below is a copy of our bell schedule. Our doors open for students at 7:40am to ensure the safe supervision of our students within the building. Students are expected to be in their first hour class when the first bell rings at 7:55am.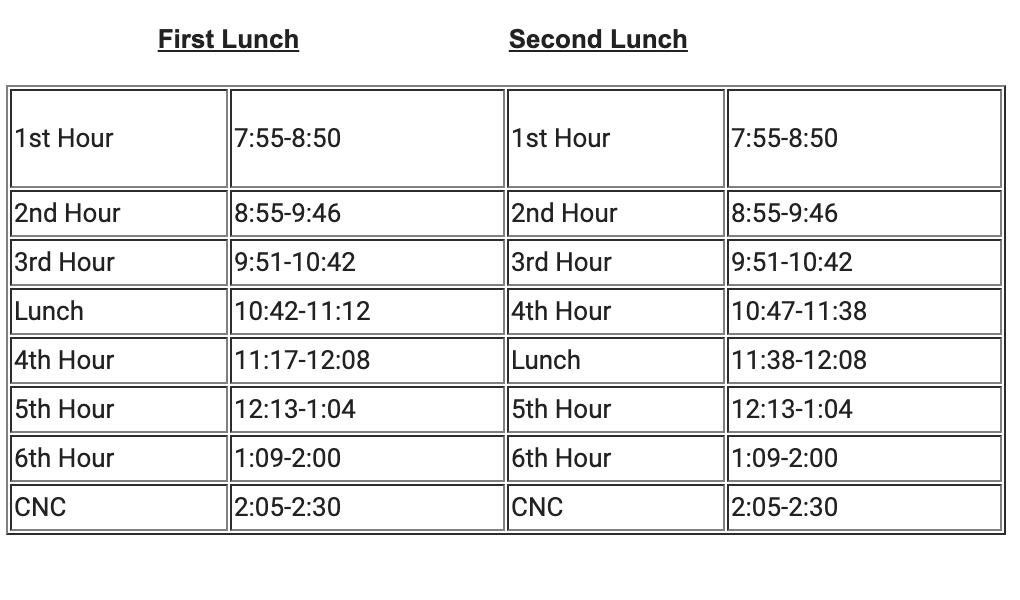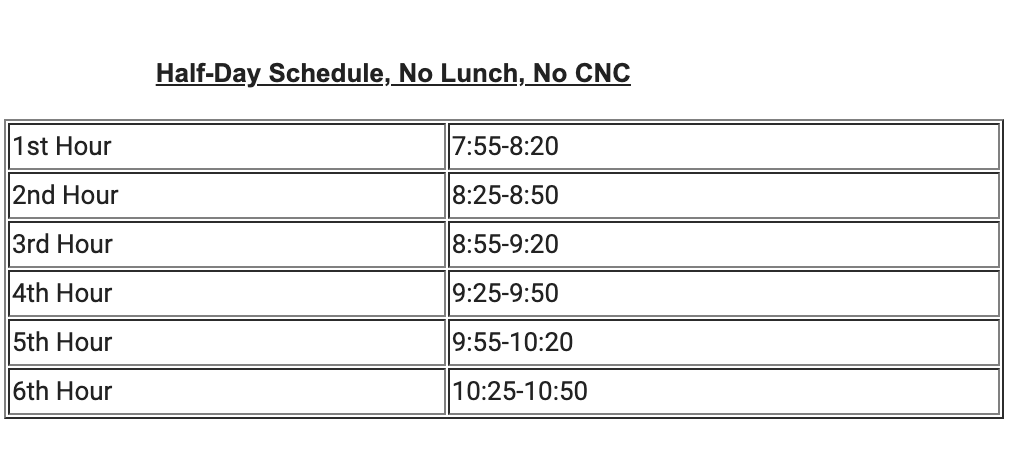 Check and Connect Class: All students have been assigned a Check and Connect Class (also known as CNC). This class is designed to support our students with organization, executive functioning skills, and overall interpersonal development skills. Each week on Mondays and Wednesdays, students will engage in specific lessons addressing the aforementioned focus points for the course. On Tuesdays and Thursdays, students will have the opportunity to complete homework and access their teachers for additional support as necessary. Fridays are typically team building/enrichment opportunities. All students will be provided a planner, and planners will be checked on a daily basis during Check and Connect class.
Information Regarding Transportation: Our transportation department sent an email to students that have been assigned a bus route. For more information, here is a helpful link: https://www.glcomets.net/parentcommunityresources/pupiltransportationbusgarage/
Open House, August 30th 4:30-6pm: Open House is not required, but it is a great opportunity for students and parents to meet and greet with teachers. There is no set schedule for Open House; it's simply an opportunity to walk through the building and meet teachers.
Office Hours This Week and Next: Our office is open from 8am-3pm this week. Next week on August 29th, our office will be closed from 8am-12pm due to all-staff trainings and professional development. On August 30th, our office hours will be 11am-6pm due to open house. We are sharing this information with you because we do welcome students and parents into the building after schedule distribution as some students need several repetitions with working lockers and locating classrooms. Therefore, please feel free to access our building during the aforementioned times.
Volleyball Tryouts: 8th grade volleyball tryouts will be 5:30-7:30 Monday, August 29th and Tuesday, August 30th and then Wednesday, August 31st will be 2:30-4:30. All students wishing to tryout must have a valid MHSAA physical on file. A physical is considered valid if it is dated on or after April 15th, 2022. More information to come soon for 7th grade students, so please stay tuned as we will communicate immediately when these logistics are finalized.
Lunch Accounts and Free and Reduced Lunch: Mr. John Ellsworth has sent emails regarding the fact that lunches will no longer be free to all students this year. Please use this link for information as to how to add money to your student's lunch account and how to apply for free and reduced lunch: https://www.glcomets.net/parentcommunityresources/lunchmenus/
These are all of the updates that we have at this time. Next week, we will reach out again on Monday, August 29th with more reminders and updates; thereafter, beginning the week of September 5th, we will begin to send our newsletters on Friday mornings. Please feel free to reach out with any questions or concerns.
Take care,
Dave and Eric