Dear Hayes In-Person Students,

Mr. Leopold and I wanted to send you all a quick email about the in-person return for the third trimester, which begins on Monday, April 5th. Yesterday, we sent your parents a very detailed email, so we wanted to be sure to reach out to you as well. If you are new to our in-person return this trimester, please note that masks must be worn at all times with the exception of lunch (while seated and eating) and during designated times at recess.
Daily Schedule
In-person instruction will be Monday-Thursday from 7:40am to 1pm, all 6 hours with your teachers (no more VLCs), and no more Live zooms during this time. Classes will be 45 minutes in length with four-minute passing time between classes. Classes begin with a two-toned bell. At the end of the hour, 8th graders are released first with a two-toned bell; 7th graders are released shortly after with a single tone bell. This is to keep crowding in the hallways to a minimum. There will be two lunches--more about that in the next section. Here is the actual hourly schedule for Monday-Thursday: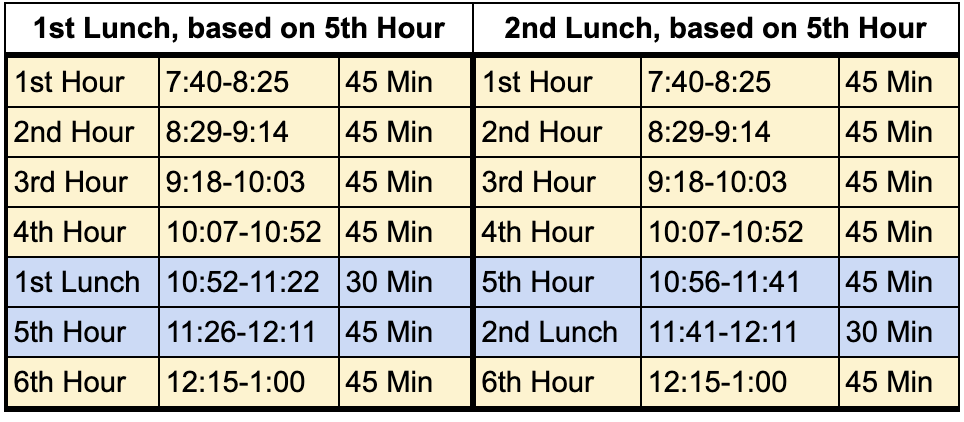 Fridays will be Live and virtual for all classes using the same schedule we used during the 2nd trimester: ½ day of short classes with asynchronous work time in the afternoon. The daily routine, including the Live Friday schedule, will be noted on Buzz landing page when your return from break.
Remember, that when you go home at 1pm each day, you will have asynchronous work to complete on Buzz that evening. Please be sure to remember to complete that work when you get home before coming to school the next day.
Lunches
There will be two, 30-minute lunches Monday-Thursday. On Monday, April 5th, your first hour teacher will tell you which lunch you will be assigned to for the third trimester. Your 3rd trimester lunch assignment will be based on your 5th hour teacher.
We will eat lunch in two locations during each lunch: in the cafeteria and in our outdoor auxiliary cafeteria. On the first day back, you will be able to choose where you prefer to eat lunch, and then this will become your assigned seat for the third trimester. Staff members will come around to get your name, so that we can build accurate seating charts. Please be sure to sit in your assigned seat each day in case we need to contact trace.
Also, free school lunch is an option open to all students each day. If you choose to obtain a free, school-provided lunch, then we will show you how to do that on the first day of the return.
Masks may be removed during lunch when you are seated and actively eating your lunch. Masks go back on when you are done eating your lunch. Masks may also be removed during outdoor recess in designated spaces.
Arrival and Departure
You may enter the building at 7:25, and masks must be in appropriate position before entering the building. If you forget your mask, then please ask a staff member for one before entering the building. For those being dropped off by parents, you may enter through both the counseling office doors or the main entrance doors. Please be sure to have your parents pull up all the way before you leave the car; this means pulling up well past the main entrance.
Things to Bring Each Day
Each day, you should bring the following items:
Face mask
Charged chromebook and charger
Backpack--stays with you all day except lunch if you desire
Earbuds
Water Bottle
Outdoor clothing (coat, gloves, hat) for lunch/recess. Please be sure to dress appropriately each day for the weather, especially if you choose to eat outdoors.
Lockers
Lockers should be used during 4 times per day:
Before school to drop off coat, hat, gloves, lunch, etc.
Before lunch to drop off your backpack and pick up coat, hat, and gloves, etc.
After lunch to pick up your backpack and drop off coat, hat, and gloves, etc.
After school to pick up coat, hat, and gloves, etc.
To avoid crowded hallways, please use your locker during these designated times, and please use your backpack to keep all of your learning materials with you throughout the day. If you want to bring your backpack to lunch, then that is fine. Please remember, however, you are responsible for your belongings, so this is why we recommend putting your backpack in your locker during lunch.
Schedules and Orientations
Our goal is to not make schedule changes, but the reality is that we may have to make some adjustments to some of our students' schedules. Those changes will be updated in PowerSchool for the third trimester, and they will also update in Buzz on your landing page. Buzz will still be used each day in the classroom to complete activities, and it will also be used outside of school to complete homework/asynchronous assignments.
Our goal is to send you and your parents your updated trimester three schedule via email by tomorrow. This schedule will come as a PDF, and it will contain your locker number and combination. If you were here for our limited in-person return, then your locker number and combination is the same.
If you have not been in the building at all this year and would like to come up for a self-guided tour, then please feel free to do so on Thursday, March 25th from 4:30-6:30 or on Friday, March 26th from 8am-3pm with your parents. Again, we kindly ask that you only come for this self-guided orientation if you haven't been in the building. If you can't make it, then please do not worry! We will have many teachers in the hallways helping and supporting the first few days back; it will be fine!
That is all the information that we have to share with you at this time. We hope that you and your family have a relaxing spring break, and we look forward to seeing all of you on Monday, April 5th. Again, everything will be fine the first week back. We will get through this together as we always do:).
Take care,
Mr. Kushman and Mr. Leopold