Beagle Middle School Parent Teacher Conferences
Beagle Middle School Parent Conferences will be held on November 16th, and November 17th from 4:00 pm - 7:00 pm., and November 23, 2021, from 12:00 pm - 3:00 pm.
Conferences will be utilizing Zoom for the meetings with teachers this trimester. Sign-up through PTCFast.com is now open. Please go to https://ptcfast.com/schools/Beagle_Middle_School_2 for detailed information and to sign up.
Once you have completed scheduling all of your conferences, an appointment confirmation email will be sent. Simply click on the Zoom Conference Link for each teacher (in your email) at your conference time and you will be admitted into the teacher's "waiting room" for your personal parent-teacher conference. **Please star and save your confirmation email as your notice of when your conferences are and to have your zoom links available. The middle school will not have a copy of your conference schedule, and without it, you will be unable to access your student's conferences!**
Please also note, that appointments are available to meet with your student's counselor during conferences, see below for which counselor your child would be assigned to:

Please remember, conferences are to discuss your student's academic progress. Teachers have limited time during these scheduled conferences and therefore we respectfully request that you only sign-up to meet with those teachers you need to see. It is important to know, however, that our staff is always willing to communicate with you via email. If a teacher you would like to meet with does not have any times available, please email him/her. Email addresses are the teacher's last name, then first initial, followed by @glcomets.net.




FALL BOOK FAIR IS COMING!
We are excited to announce that the Fall Book Fair is back! The week of November 15th - November 19th, students will visit the Scholastic Book Fair with their Language Arts classroom and will have the opportunity to browse and purchase books and other products. Students may purchase books using cash, check or the Scholastic eWallet. If you wish to send a check, you can put a dollar amount in, and then we can give change back. Checks should be made payable to Beagle Middle School.
Scholastic continues to offer the ONLINE BOOKFAIR shopping too! Beginning October 12th, you can log in to: https://www.scholastic.com/bf/beaglemiddleschool4 to preview the Fair, shop online, and learn more about Scholastic eWallet. If you would like to watch the promotional book fair video your students will be watching please use this link: https://bcove.video/2Uzgk0D.
Thank you for your support for our school and for helping our library grow with the profits we receive from the Fair.
PLEASE DONATE NEW, UNWRAPPED TOYS! The Grand Ledge Shopping Tour would like to bring some joy to boys and girls who live in the Grand Ledge Public Schools area who might not otherwise enjoy gifts this holiday season. You and/or your children may donate NEW, UNWRAPPED TOYS for kids in grades K-4 and place them in the GL Shopping Tour collection bins found at any GLPS elementary school and in various businesses around the community. This is a wonderful opportunity for the whole family to get involved in the spirit of giving to those less fortunate. Toys will be collected through the first week of December. Thank you!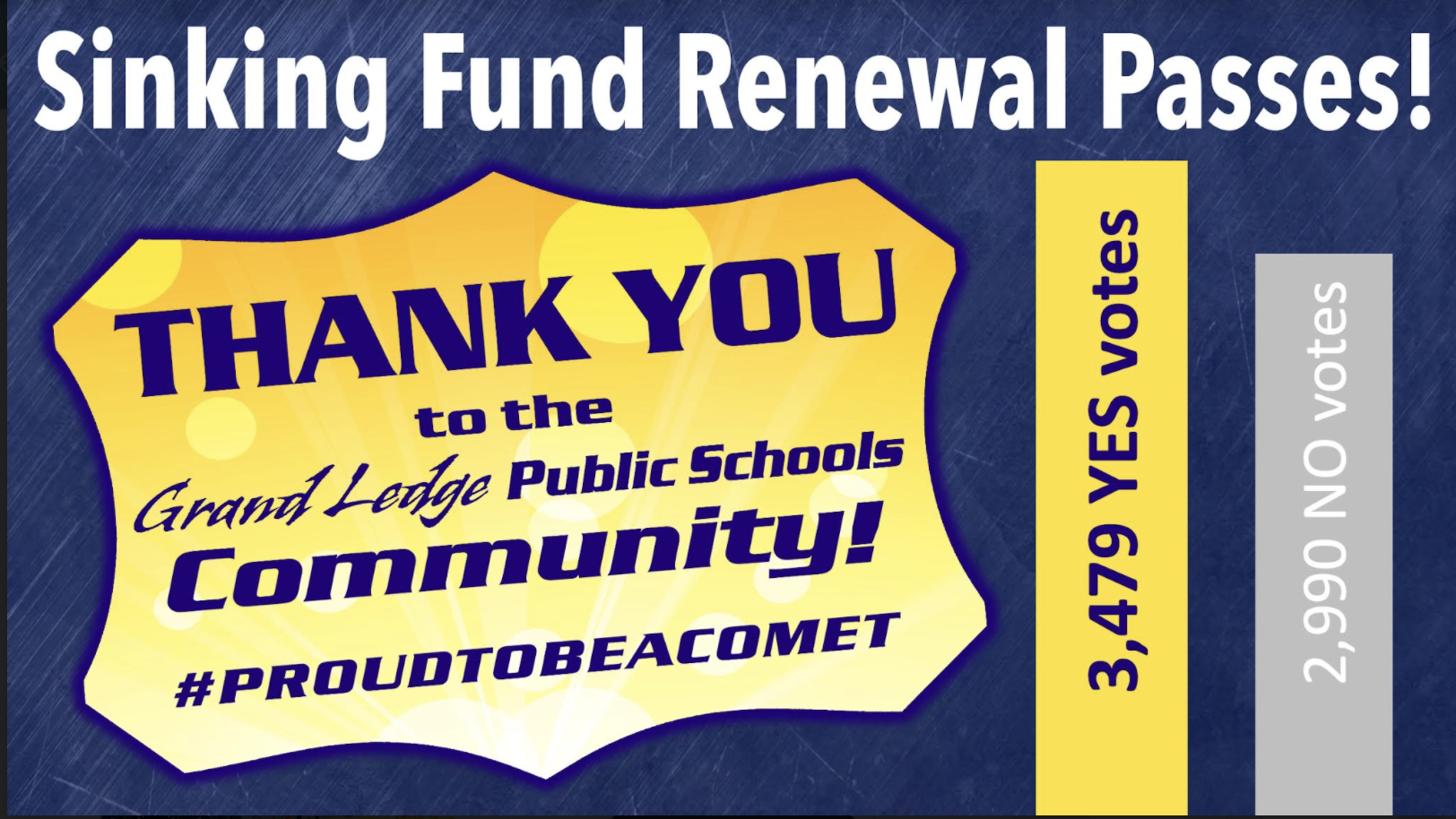 Thanks to the Grand Ledge Public Schools Community for voting earlier this week! The Sinking Fund Renewal passed! Voters approved the three-year renewal of the millage at a rate of .7921 mills, which is just maintaining the current rate and is not an increase over the 2021 millage levy. The Sinking Fund – also called the Capital Improvement Fund – was first approved by the voters in 2002, and it has now been renewed by voters in 2011 and 2021. It pays for school building improvements, roof replacements, HVAC maintenance, parking lot work, athletic facility upgrades, and more.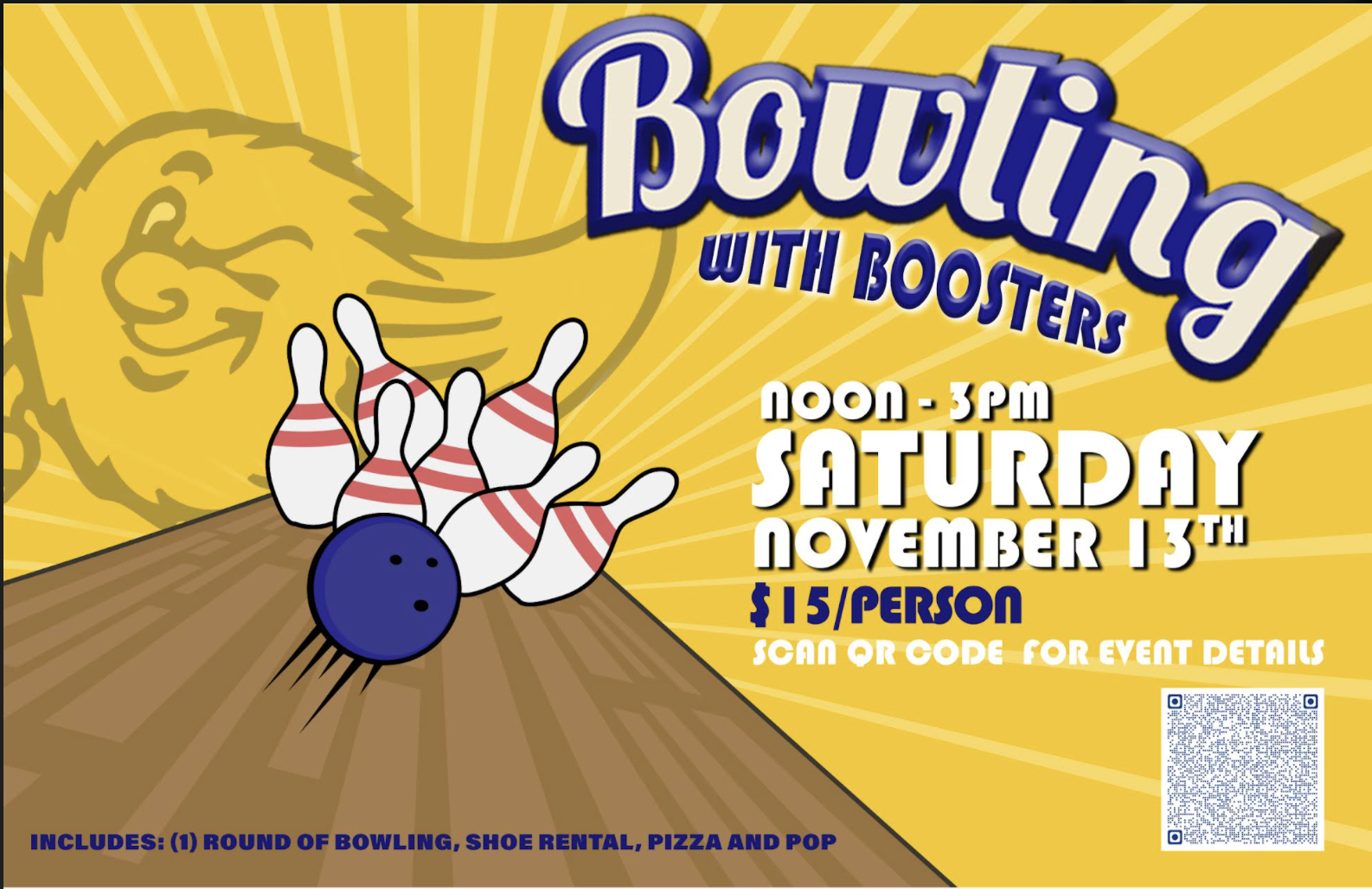 The GL Track & Cross Country Boosters are hosting Bowling with Boosters at noon on Saturday, November 13th at Royal Scot Golf & Bowl. ALL ARE WELCOME TO JOIN THE FUN... join the boosters for some bowling and pizza. $15 per person gets you one game of bowling, shoe rental, pizza, and pop -- with proceeds going to the GL Track and Cross Country Boosters. It is also a chance for anyone who has an interest in supporting or gaining more knowledge of the boosters club to do so. Or it is just a good chance to bowl, have fun, and help GL Track & Cross Country!